Signify unveils new easy-to-use WiZ smart lighting products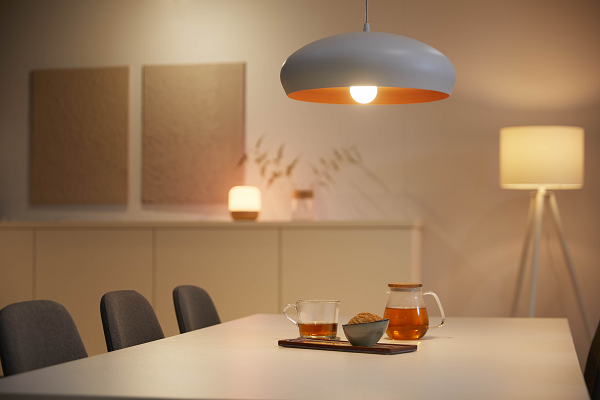 Signify has released a new range of WiZ smart lighting products for daily convenience.
With WiZ's ecosystem and newest product range — consisting of smart table lamps, ceiling lamps and accessories — it's easier than ever to make your home all connected with smart lighting. The new products are available from 1 September 2021 onwards.
For chic and subtle smart light, choose WiZ Tunable White Ceiling lights. The minimalist, super-slim design means they work well in living rooms and bedrooms and complement all interior styles. With the Circadian Rhythm mode, you can now mimic the natural transition of sunlight in your home throughout the day.
The WiZ Adria Daylight Dimmable and Warm Dimmable Ceiling lights bring smart light features to more functional areas of the home, like the kitchen, bathroom or hallway. Connect the ceiling lights to the WiZ app in order to dim the lights with the app or voice control. No more being dazzled by bright light when you visit the bathroom or kitchen at night, but use your voice to set a warm, dimmed light.
With WiZ's Smart Plug, non-smart lights and appliances can be made smart and be wirelessly controlled with the WiZ app or a voice assistant – such as portable fans or floor lights. Users can set timers and routines and control the light or appliance when they're away from home. The new Smart Plug has an embedded power meter that monitors power consumption for energy optimisation.
"We continue to expand the WiZ ecosystem with smart innovations like the Smart Plug and new connected table lamps and ceiling lights that suit every mood and style," WiZ Connected business leader Maikel Klomp says.
"By offering the most intuitive and easy-to-setup ecosystem, with a feature-rich app connecting our smart products, we are helping consumers to create a welcoming environment with smart lights for every lifestyle."