Schneider Electric reveal first home energy solutions made from recycled ocean plastics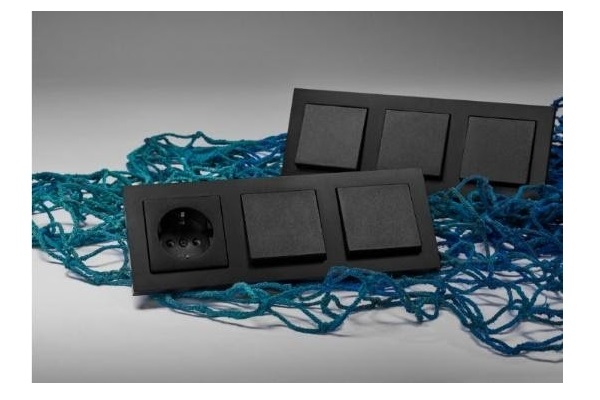 Schneider Electric has unveiled its Merten range of sockets and switches which are made from recycled ocean material. Delivered in sustainable packaging and eliminating non-recyclable material, the sockets empower customers to take one step closer to achieving net-zero goals.
Debuting at CES 2022, Schneider Electric is the first company in the industry to offer home energy solutions made from upcycled ocean plastic that creates a vision of a truly functioning circular economy.
The Merten range includes new models made from polyamide fishing nets collected from the Indian Ocean and the Arabian Sea. Customers in select markets are now able to contribute to the reduction of ocean pollution by choosing sustainable products – including switches, sockets and frames – without compromising on durability and style.
The Merten Ocean Plastics offer has been recognised by CES as a 2022 Innovation Award honouree in the Sustainability Category. The product range is also the first in the industry to receive the international Cradle to Cradle Silver certification for responsible product design and steps taken towards a continuous circular economy.
The abandoned or lost fishing equipment makes up around 10% of the plastic waste in our oceans. The new Merten ocean plastic models contribute to reducing the 640,000 tonnes of fishing nets left in the ocean each year and are the first step in making this range of products more sustainable.
Schneider Electric partnered with DSM, a global leader in Health, Nutrition and Bioscience to transform fishing net waste into high-grade technical plastic that can be used in electrical devices.
DSM collaborates with several local communities in India to recover and collect discarded fishing nets, providing a significant benefit to the local economy and environment.
"The collaboration between DSM and Schneider Electric is a world first and a game-changer for the market," Schneider Electric executive vice president of global home and distribution YiFu Qi says.
"We hope to pave the way for even more sustainable innovations in the electrical solutions industry and spark inspiration and innovation for years to come. The future of production in the electrical solutions sector has to be green. Using the right materials for the job from the outset is central to creating a circular economy in this industry."