Rohde & Schwarz NGA100 power supply series stocking through element14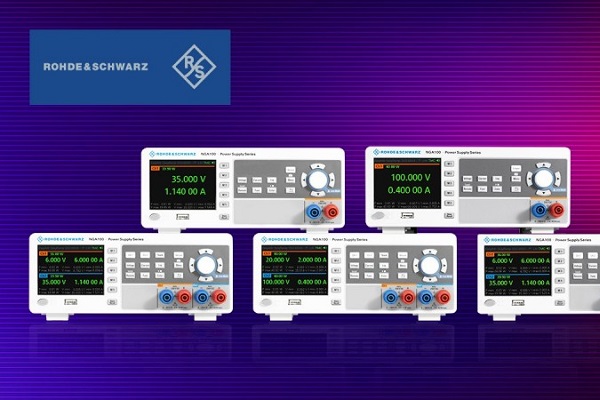 Global distributor of electronic components and solutions, element14 has expanded its test and measurement portfolio with the NGA100 power supply series, part of the Essentials Portfolio from Rohde & Schwarz.
The power supply units aim to be easy-to-use for general purpose power supply and ideal for various bench applications requiring stand alone or system use.
With intuitive manual control and simple computer-controlled operation, the NGA100 series is in stock for same day shipping and can be used as a bench supply for R&D, product test, repair and education or in racks for manufacturing test systems.
It's an entry-level power supply and is based on a stable output, low noise, linear topology which is housed in a compact footprint and is quiet to operate. It also provides excellent feedback accuracy and has a low current range with multiple sleep modes for complementing demanding measurements required by the Internet of Things (IoT).
Advanced protection functions ensure connected devices and the power supply remain safe. The channel fusion feature extends voltage and current ranges by allowing the isolated outputs to be connected in series for higher voltages or in parallel for higher output currents.
Equipped with different external control interfaces, the power supplies feature remote sensing at the load to improve setting and measurement accuracy and are simple to integrate into automated testing. The NGA100 series also allows customers to work seamlessly and productively with modern test workbenches. This flexibility makes the instruments ideal for various bench applications including arbitrary waveform generation and data logging of voltage and current measurements over time, with simple output of data.
"We recently introduced Rohde & Schwarz's NGU series of source measurement units and we are delighted to be adding another innovative test equipment series to our market leading range," element14 global head of test and tools James McGregor says.
"We are committed to providing our customers with best-in-class test and measurement products for entry-level application and education through to professional R&D, heavy duty manufacturing and IoT. The new NGA100 series of power supplies and our complete R&S portfolio is available for fast delivery from stock, ensuring customers can access the products they need, whenever they need them."