Ramex retracting power cable reels
Even with the best forward planning, workshop and garage power points never seem to be where you need them. So out comes the extension cord with the risk of trips, slips and falls – not to mention a messy looking work environment and potential damage to the cord.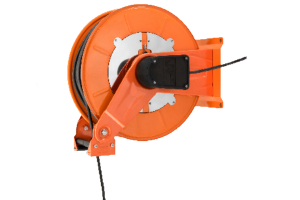 To solve this problem, Ramex Italy have developed spring retractable power cable reels that can house power cords from 20-50m in length. Not only that, the reels can be mounted on the wall up to 2m away from the power point.
It means there's no longer an excuse to leave extension cords lying around the factory, workshop or garage floor. Plus, it keeps power cables safely tucked away.
The retractable power cable reels are IP65 Rated. That means they are rated as "dust tight" and protected against splashing water but not entirely waterproof.
When it comes to looks, you have the choice of 304 Stainless Steel or powder coated in standard blaze orange or the colour of your choice. With the same spring rewind mechanism as used in their popular hose reels, the Ramex retractable power cable reels are easy to use.
For more information or to order your power cable reels, contact Tecpro Australia. Tecpro stock the complete range of Ramex hose and power cable reels.
Visit www.tecpro.com.au or call 02 9634 3370.