Product recall for LG S/A Gen2 ESS Batteries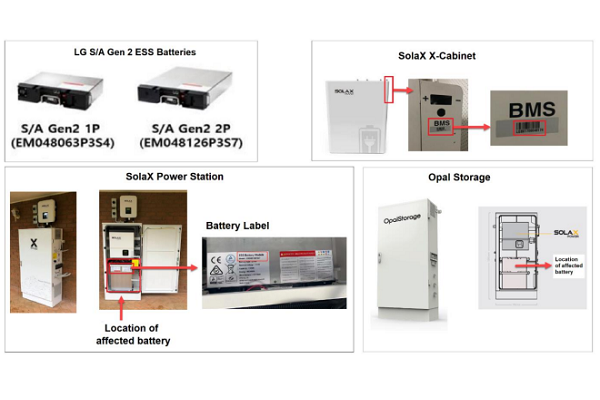 Affected LG batteries supplied by SolaX Power Aus Pty Ltd and its distributors MS Corporation Pty Ltd, Solar Juice Pty Ltd and Supply Partners Pty Ltd between April 2017 and July 2018 have been issued a product recall.
The defective batteries may overheat and cause fire and incidents have already occurred and damaged properties. The model numbers LG S/A Gen2 1P (EM048063P3S4) and LG S/A Gen2 2P (EM048126P3S7) and each battery is marked with a serial number.
If you have LG S/A Gen2 ESS batteries or a SolaX X-Cabinet, Power Station or Opal Storage system containing LG S/A Gen2 ESS batteries, or if you are in doubt, immediately contact SolaX Power by email at service@solaxpower.com or by telephone at 1300 476 529.
SolaX Power will help installers and end users find out if they have an affected battery. If they do, SolaX Power will help switch off the unit until the maximum state of charge of the battery is reduced or the battery is replaced. This charge reduction is an interim measure that will reduce the risk of overheating.
All affected batteries will be replaced for free.
ADVERTISEMENT

ADVERTISEMENT