Pierlite launches air purifying LED light fitting that reduces airborne virus transmission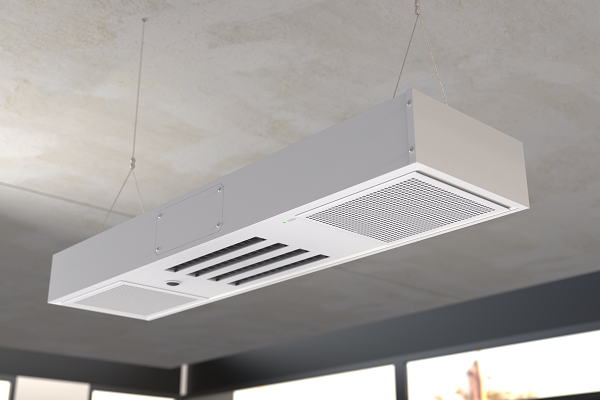 Australian lighting and technology company, Pierlite, has launched the Aether LED Troffer, a novel UV-C/HEPA air purifying luminaire proven to proactively inactivate and remove 99.995% of harmful pathogens from the air.
Engineered in Australia, the troffer luminaire is designed for easy installation in modular ceiling grids common in education, commercial, healthcare and hospitality environments.
Aether differs from conventional air purifiers in that it inactivates viruses and kills bacteria. As well as providing traditional lighting capabilities, Aether is equipped with a three-step ventilation system that actively circulates air and scrubs it of harmful pathogens in a concealed chamber using ultraviolet (UV-C) LED and HEPA disinfectant technology.
Using a quiet, long-lasting motor in Aether's inlet grill, the fitting continuously draws in air from its surrounding environment. Once inside the concealed chamber, the air passes through ultraviolet (UV-C) radiation, damaging the DNA of harmful airborne pathogens and rendering them ineffective. The air then passes through a medical-grade HEPA H13 filter, emitting clean, safe air from its air outlet on the opposite side of the fitting.
The Aether fitting can also be equipped with IoT sensors and controls, providing users with features including real-time air quality, energy usage and occupancy analytics.  The Aether troffer is powered by 20W DC motor and achieves a Clean Air Delivery Rate (CADR) of 170m³/hr
Pierlite has already received significant third-party clinical validation supporting Aether's efficacy from Australian, German and Chinese laboratories.
Pierlite general manager – future markets Lydell Stokes says Aether will transform indoor safety outcomes for school classrooms, offices and hospitality venues: "The Omicron wave we saw in January showed that despite high vaccination rates, the risk of virus transmission indoors remains at an all-time high. At this critical time, we are proud to bring one of Australia's safest, most efficacious solutions to market to help Australian organisations reduce virus transmission, keep occupants safe and reduce critical workforce shortages.
"Almost every school classroom, hospital and office is already equipped with modular ceiling infrastructure with troffer lighting products installed. By looking at lighting differently and replacing some troffers with Aether, indoor spaces immediately and effortlessly become safer, cleaner environments."
Aether has now been installed in organisations across Australia, including Melbourne disability services provider Tender Loving Care, SA Health, St John of God Health Care Perth and a prominent Perth college.
ADVERTISEMENT

ADVERTISEMENT