Phoenix Contact releases Checkmaster 2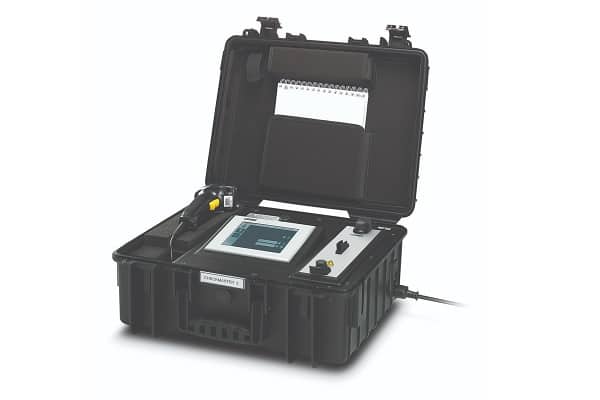 Phoenix Contact has announced the release of its Checkmaster 2, a mobile test case that enables technicians to quickly and accurately test all Phoenix Contact pluggable surge protection devices. It enables all the installed protective elements of the surge protection device to be electronically tested in a single cycle to ensure a highly accurate result.
Featuring a convenient and integrated hand scanner, the Checkmaster 2 reads and identifies the surge protection device by its barcode before the test object is inserted into the associated test adaptor. The automatic test process is then started via the menu-driven, LC colour display touch panel interface, with the surge protection device electronically tested to compare the current electrical parameters of the components with the specified reference values.
The tests undertaken by Checkmaster 2 conform with the requirements in IEC 62305-3                              and are performed using a high voltage generator.
Thanks to a colour display, the results are easy to see, with three status levels that accurately inform the technician of the current quality of the device and help them make informed decisions that ensure the ongoing availability of systems.
The Checkmaster 2 is fully portable so that technicians can take it anywhere and comes in a sturdy protective case.