Philips Hue combines design, flexibility and control with new lights and accessories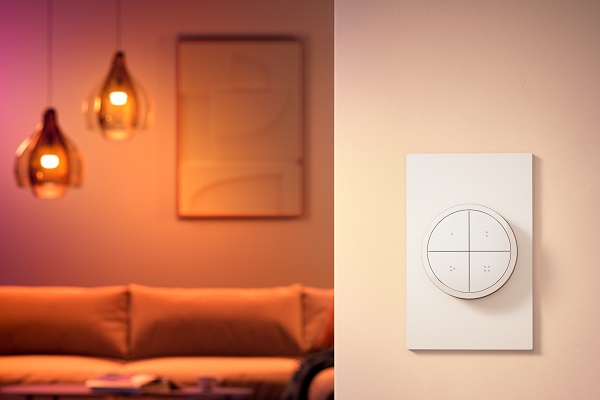 Signify has unveiled a new range of Philips Hue smart lighting products that offer even more flexibility, control and design options for the home.
New product launches include two exciting firsts for Philips Hue — the first fully customisable track lighting with its own range of lights and the first portable, rechargeable lamp designed for indoor and outdoor use.
Additionally, a new smart switch in sleek black or white brings intuitive dimming for the first time by turning the switch's dial. It also includes the ability to set scenes and assign rooms with each of its four buttons.
Philips Hue Perifo is a new line from Philips Hue that is made up of individual rails that fit together to make a fully customisable track. Electrical professionals can choose the layout and length of the track and what lights to include to get full control over.
The track can be attached to the wall or ceiling and connected to a standard outlet or existing wires using the included power supply unit. Then the real fun begins as users click the choice of smart lights into the track and position them exactly how they want.
Philips Hue also introduces a new smart accessory, the Philips Hue Tap dial switch — giving users even more personalised control of their smart lights around the home. The Tap dial switch has four buttons, and each button can be set to control smart lights in up to three separate rooms or zones around the home.
Tap a button to choose or adjust any light scene instantly. The Tap dial also comes with intuitive dimming control — the faster or slower you turn the dial, the faster or slower your smart lights dim or brighten.
The switch also has a sleek, matte design in black or white, making it fit in with decor anywhere around the home. It can also be used as a handy remote control or even mounted magnetically onto any metal surface.