Philips GreenUp LED Highbay receives Red Dot Award for design excellence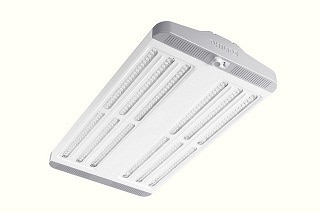 Philips innovation in lighting recognised for design excellence in product design by a jury of renowned specialists from all over the world.
With an unprecedented 49 awards, Royal Philips (NYSE: PHG, AEX: PHI) excels at the 2015″Red Dot Award: Product Design", one of the most important global competitions for product design.
Among the winners, the intelligent connected GreenUp LED Highbay, available in Australia from March 2015 onwards, picked up a "Red Dot" for high design quality.
Leveraging Philips' expertise in both LED luminaries and systems solutions the Philips GreenUp Highbay heralds a new era in warehouse lighting.  An integrated solution that combines controller, sensor and luminaire in one, the GreenUp Highbay offers wireless capabilities and controllability without the complexities and installation demands associated with traditional controlled lighting systems.
Designed for both new projects and retrofits, the lightweight GreenUp Highbay offers a point-to-point retrofit replacement of conventional fluorescent T5 and conventional highbay light fittings with energy savings of up to 75% compared to traditional Philips HID 400W high-bays and up to 54% versus traditional Philips T5 HO 4x54W high-bays.  Further energy savings can be achieved with integrated intelligent controls for occupancy and daylight detection, as well as wireless zoning.
For facility managers, the GreenUp Highbay allows for easy configuration of warehouse zones to match occupation and routing density for optimal space design and utilisation.  Any rezoning can be done via remote control without the need for specialised devices or technicians, shortening design and planning periods and reducing overall cost of ownership.
An optical lens with low glare (UGR17) and accurate colour (CRI85) combined with three optic lens design options (wide beam, narrow beam or high rack optic beam) enables the GreenUp Highbay to suit diverse application requirements and offers application flexibility.
The products submitted for a Red Dot Award were evaluated by a prestigious jury of experts according to a canon of strict criteria, including degree of innovation, functionality, ergonomics, self-explanatory quality, symbolic and emotional content, ecological compatibility and durability. These criteria are constantly adapted to reflect the latest technical, manufacturing, societal, industrial and ecological developments. A Red Dot award is an international seal of quality, creative competence and design excellence.
Observing and understanding how people live and work remains central to Philips' design approach." said Sean Carney, Chief Design Officer at Philips. "Designers at Philips strive to make technology meaningful, focusing on the needs of people and how those needs can be addressed to make their lives healthier and happier. 49 awards in one of the most prestigious design competitions is a validation of our people focused methodology".
Philips Design has a creative, multi-disciplinary team of nearly 500 designers based around the world, who work closely with their business colleagues to have maximum impact from a concept to a market solution. In 2015, Philips is celebrating 90 years of design at the company.
ADVERTISEMENT

ADVERTISEMENT