Patching into patch cords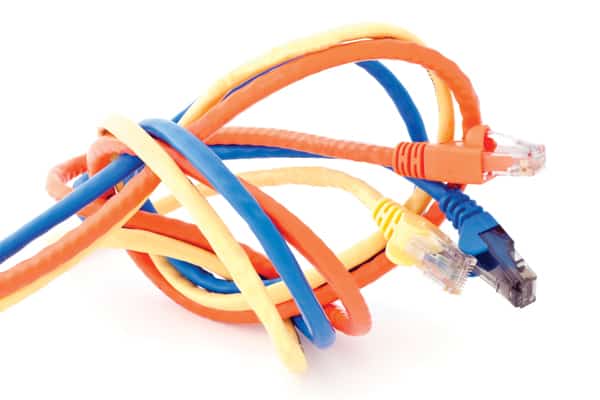 Patch cords are affecting network and system reliability, writes VTI Services technical director Murray Teale.
Patch cords (aka balanced cords) are proving to be the weak point in the reliability of networks.
Irrespective of the quality of a structured cabling system, poorly performing and unreliable patch cords are having a devastating impact on infrastructure network operations along with the safety and security systems that run over them.
The performance obligation for patch cords goes well beyond just using appropriate cabling components to construct patch cords. For example:
AS/CA S008 (mandatory), AS/NZS 3080, ISO/IEC 11801 and IEC 61935-2 all have performance requirements for balanced cords that must be tested at the time of manufacture.
AS/CA S009 (mandatory Wiring Rules) has a general requirement that the cabling be 'fit for purpose'.
Telecommunications – Types of Cabling Work – Declaration 2013 provides an exemption for specific balanced cords from being deemed as 'customer cabling'. This allows end users to undertake patching while not breaching any requirements of the Telecommunication Act 1997 or its amendments.
The draft international standard ISO/IEC 11801-1 additionally includes environmental performance requirements that must be met.
Further, twisted cord performance requirements currently include but are not limited to:
AS/NZS 3080
AS/CA S008

Insertion loss
Conductor identification
Insulation and sheath material
Tensile strength and elongation
Cord – plug anchorage
Flammability
UV resistance (if intended for use external to a building)
Conductor composition
Electrical withstand voltage
Insulation resistance
Metallic shield (if applicable)
On-site or workshop manufactured patch cords are highly unlikely to meet all AS/CA S008 and regulatory requirements.
Other factors to be considered should include environmental considerations and current-carrying and heat dissipation capabilities.
(26 AWG and 28 AWG patch cords may not be suitable to deliver power to a 95-100W PoE device.)
Poorly constructed twisted pair patch cords supporting electrical load switching equipment in a data centre have been enough to take down the whole data centre.
Patch cords can be tested in the field; however, it requires the use of specialised test adaptors. Channel test heads are unsuitable for patch cord testing due to the difference in gating (associated with the plugs) when testing a channel and a cord.
So, when specifying patch cords, the minimum specified requirement should be based on conformance to AS/CA S008 to ensure mandatory compliance, and IEC 61935-2 to ensure performance compliance and to help to establish the cords are 'fit for purpose'.
ADVERTISEMENT

ADVERTISEMENT