Nokero solar powered light bulb
The brightest new eco-gadget on the market, the Nokero solar powered light bulb, is a must have for every home owner, outdoor entertainer or nature lover.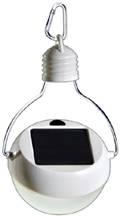 The Nokero N220 is bright enough to replace traditional electric lights in most cases and it can be used in a range of ways, indoors and out. It's perfect for outdoor patios, gardens, walkways and verandas. Or simply charge it outside by day and use it indoors by night, in the knowledge that you are saving electricity, the environment…and your wallet!
The environmentally-friendly light is weather proof, long-lasting and durable. Nokero has been designed with a high-efficiency solar panel and two high-temp batteries that stay efficient even in Australia's extreme heat. It is also designed to automatically switch off in bright light to save charge.
Nokero N220
Pivots toward sun for maximum efficiency
Bright home and patio lighting
Aluminium carabineer clip
Lamp stand included
Daily operation time: 3.5 hours (high) 6 hours (low)
Number of LEDs: One
Dimensions: L 17cm, W 11.5 cm, H 11.7cm
Weight: 170g
Switch type: Push 3-way hi-off-low
The Nokero solar-powered light bulb is also available in two other, more compact models: N100 and N200.
ADVERTISEMENT

ADVERTISEMENT