Next-gen Mitsubishi Triton previewed with XRT "concept"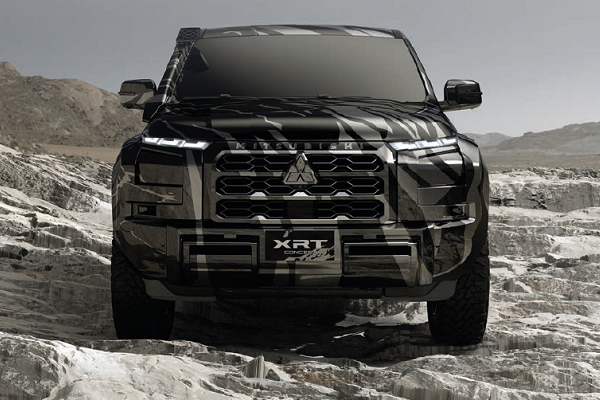 Mitsubishi Motors has previewed the next-generation Triton with the reveal of its Triton XRT Concept at the Bangkok Motor Show. The concept car is a thinly-veiled glimpse at what is to come from Mitsubishi's popular ute, with the production version of the new-generation Triton expected to launch locally in 2024, following a global reveal later this year.
The Triton XRT Concept boasts a futuristic and aggressive aesthetic, with barely-there camouflage covering bodywork that is clearly longer and wider than that of the current-generation Triton. The concept car's styling is a significant departure from the current model, with a more sculpted and sporty look that is sure to turn heads. The design features a striking front end with a new grille and sharp LED headlights, while the rear end features similarly angular and futuristic sheetmetal.
Though it appears largely production-ready, one element of the Triton XRT Concept that is unlikely to make it to the production version are its the boxy overfenders, which lend the concept car a rugged and off-road-ready look. Don't expect to see them on the production version, but it wouldn't be any great surprise if Mitsubishi brought them back for a future performance variant – which is something that's believed to be in the pipeline, given the company's recent efforts to revive its Ralliart sub-brand.
It has been nine years since the arrival of the current-generation Triton, so Mitsubishi's customers have been eagerly anticipating the release of the new model. The Triton is Mitsubishi's most popular vehicle globally and in Australia, so there is a lot riding on the success of the new model – particularly as Mitsubishi's product portfolio is considerably smaller than that of most of its Japanese rivals.
Mitsubishi will campaign a pre-production version of the new Triton at the 2023 Asia Cross Country Rally, following its victory last year using a previous-generation Triton. This is a clear indication that Mitsubishi is confident in the new Triton's off-road capabilities and ruggedness, and is keen to demonstrate it while cameras are rolling. Former Paris-Dakar champ Hiroshi Masuoka will head up the AXCR campaign, a man who's already notched up several off-road victories of his own while driving for the Triple Diamonds.
Local pricing and specifications for the new Triton will be revealed closer to the Australian launch in 2024, however, the new Triton is expected to be offered initially with a familiar 2.4L turbodiesel powertrain lineup across single, dual, and cab-chassis bodystyles. An all-electric version is also likely to be added later this decade, with Mitsubishi potentially skipping a plug-in hybrid variant.
ADVERTISEMENT

ADVERTISEMENT