New Triplett testers improve ergonomics and expand testing capabilities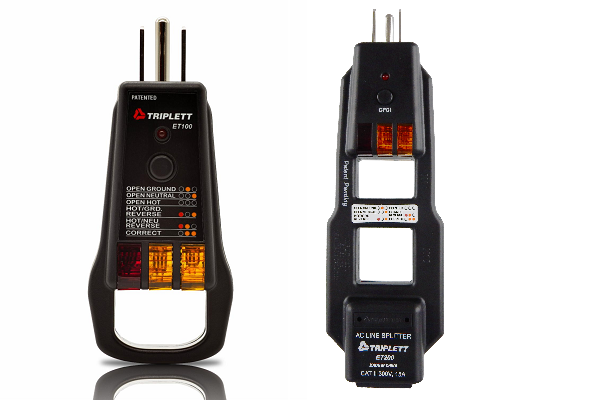 Triplett Test Equipment has launched two GFCI receptacle testers designed to expand the versatility of the essential electrical troubleshooting tool.
The first of the two testers is dubbed the ET200, its integrated line-splitter makes it significantly easier to test both circuit wiring and connected electrical devices and appliances. The compact ET100 introduces an ergonomic 'easy-pull' design to remove the tester from high-retention outlets.
The new tools are designed to make receptacle and electrical testing easier for commercial and residential electrical contractors, home inspectors, kitchen and bath installers, apartment/condo property managers, DIY's and handymen.
First up, the ET100 Easy-Pull GFCI receptacle tester which re-imagines the GFCI receptacle tester by adding an ergonomic finger loop to ease removal from receptacles, especially those with high retention force.
A simple push-button test helps validate GFCI receptacles are operating properly. The color-coded three-light display helps users pinpoint any one of five potential wiring issues: Open Ground, Open Neutral, Reversed Hot and Ground, Open Hot as well as Reversed Hot and Neutral. Codes are indicated on both side of the tester to ensure easy viewing regardless of the receptacle's orientation.
The second device, the ET200 two-in-one GFCI receptacle tester and AC line splitter features the testing capabilities of the ET100, while also including an integrated line-splitter that makes it easier to perform voltage measurements and test current loads of connected appliances or electrical equipment.
The ET200's line splitter can be used with a clamp meter to measure current loads up to 15A without splicing wires or other modifications that permanently alter a device's power cord.