New ducted air conditioning systems from Fujitsu General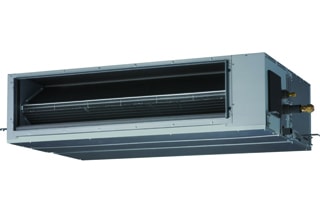 Fujitsu General has launched three new high static single phase ducted air conditioning systems. Significant improvements to design and energy efficiency deliver faster, smoother installation, as well as greater comfort and control.
Boasting a lightweight, compact build, the indoor unit can be split into two parts, making it easier to install within ceiling cavities. An automatic static pressure setting allows users to set the static pressure to match the individual installation, helping to maintain optimum airflow while reducing the time required for commissioning.
Key energy management features include a new V type indoor heat exchanger, high efficient DC fan motor with lower power consumption, and a new airflow design allowing for higher output across different static pressure settings.
Other practical features include a new air stabiliser helping to uniform air circulation across the new heat exchanger design. This results in lower noise levels while improving the efficiency of the air conditioning system.
Available as an optional accessory to all new Fujitsu General ducted systems, the UTY-RNRYZ1 backlit touch pad features an intuitive touchscreen display, a built-in Thermosensor and a range of daily or weekly timers. The controller can limit the minimum and maximum set points on both the cooling and heating cycles, allowing building managers to set the air conditioner to suit specific requirements of the installation.
Indoor units: ARTG45LDTA, ARTG54LDTA and ARTG60LDTA