NECA, JH Market enter partnership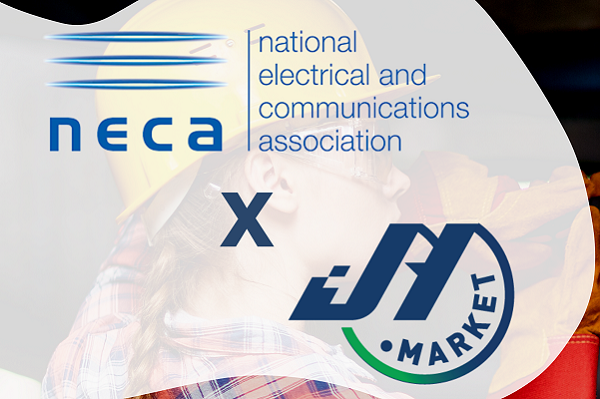 JH Market has entered a new partnership with NECA Victoria. NECA can assist JH Market's trade customers who become NECA members to receive free or heavily discounted health & safety, HR, legal and technical advice, including wages, enterprise bargaining, termination and management training.
Right now, NECA members who are JH Market trade customers can receive 50% off JH Trade+ subscription. JH Market's Trade+ subscription offers tradies extended labour warranty, free shipping to metro Melbourne, priority access to events such as footy tickets and $600 worth of offers including free product training, free sample kits annually and free lighting project designs.
"The importance of industry bodies representing our sparkies and encouraging women to pursue trade as a career is crucial. Supporting the growth of women in our industry is something I've been looking for ways to support, and NECA's initiatives really stood out to me," JH Market executive chairman James Wang says.
The Australian Bureau of Statistics (ABS)'s research shows that in 2020, females only made up 23.8% in the electricity, gas, water and waste services industry. On top of this, the ABS found that in 2020, women's average full-time weekly earnings were 86% that of men.
To reduce this gender gap, NECA believes there should be a focus on analysing and breaking barriers in three key areas of employment for women in the electrical industry: engagement, recruitment and retention. This includes increasing visibility that trade is an option for a long-term career path for young girls and women, shifting recruiters' views and keeping women safe and away from harassment and bullying at work.
Research suggests that, aside from sexual harassment and bullying, which alone are large issues, women are leaving engaging, rewarding and well-paid work because the workplace isn't designed to include them. Many women have reported having issues with uniforms, gloves, hard hats and safety glasses not fitting properly. This results in a higher chance of accidents and bodily harm in these accidents.
"NECA's input towards closing the gender gap is something that drew me to partnering with them," James adds.
ADVERTISEMENT

ADVERTISEMENT