NECA announces winners of National Apprentice and Trade Teacher Awards 2018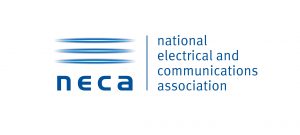 Some of the best electrical apprentices, along with the 2018 outstanding Trade Teacher, were recognised at the 2018 NECA National Apprentice and Trade Teacher Awards this month.
The winners of the NECA National Apprentice Awards, Sam Morrow, Andrew Binetti and Luke Hentschke were selected from a very competitive field of 16 exceptional State Apprentice Award winners from right across Australia.
"Judging awards is never easy and once again this year the quality of the entrants was exceptional," said NECA chief executive Suresh Manickam.
"Well trained, quality apprentices are the future of our industry and it is encouraging to see the innovation and technical excellence demonstrated by these young people. The demand for electrical skills is going to continue to grow as we become more and more dependent upon technology and all these apprentices will have a bright future."
Andrew Binetti (Victoria), Industrial Apprentice Award
Andrew Binetti, who has spent his apprenticeship with NHP, CJ Pearce and Abbe Corrugated, was the top achiever in the Industrial category.
Sam Morrow (Victoria), Commercial/Domestic Apprentice Award
Sam Morrow won the the Commercial/ Domestic category. He's spent his entire apprenticeship at Malady Electrical.
Luke Hentschke (South Australia), Communications Apprentice Award
Luke Hentschke has spent his full apprenticeship with Apex Communications Technologies. One of the major projects Luke worked on for Apex Communications Technologies was the National Royal Adelaide Hospital.
Matthew King (Western Australia), Trade Teacher Award
Winner of the 2018 Trade Teacher Award was Matthew King, who has been a teacher at the Swan Trade Training Centre in WA since its inception in 2012. He established and runs the only school-based, pre-apprenticeship program delivered by in-house staff in Western Australia.