MHIAA releases commercial outdoor A/C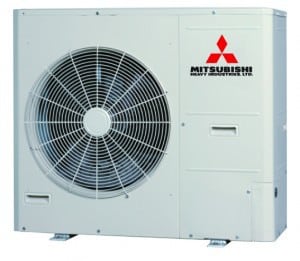 Mitsubishi Heavy Industries Air-Conditioners Australia (MHIAA) has produced a new air conditioning system that is specifically designed for large commercial applications.
The FDC100VPN is fitted with technology that combines low noise levels and high level performance that will suit the needs of specifiers and commercial renovators.
What makes the commercial grade appliance a stand out for some is the company's heritage in aviation and spacecraft. MHIAA has used similar blade technology found in jet engine planes and a system that is completely silent when in operation with a powerful 10kW capability. To complement, it also features an in-built condensate drain pump and is a standard inclusion upon purchasing the appliance.
The model is 970mm in width, 845mm in height and a small depth measurement of just 370mm making it perfect for confined spaces and a non-intrusive climate solution. Versatility was a priority during the design process as it is perfect for commercial spaces like pubs, clubs, restaurants and cafes, while also being ideal for schools and residential homes.
The unit is also compatible across an array of indoor units that include the FDT100VF2 cassette; medium static pressure (ducted) FDUM100VF2; high static pressure (ducted) FDUA100VF2; and, the under-ceiling FDE100VG. The extensive range also gives sustained performance regardless of the weather.
MHIAA 6-wire CnT wiring lead can be used on the indoor unit control board which makes for easy external control and status output.
WiFi connectivity is also an option which allows remote access using a smart phone, Apple Watch, tablet or personal computer.