Mercedes-Benz unveils Vision Urbanetic concept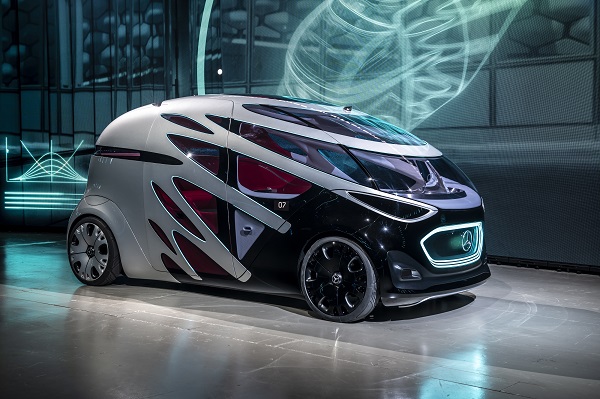 Mercedes-Benz has developed a thought-provoking new hi-tech light-commercial van concept that combines trade and family transport in the one package.
Dubbed the Vision Urbanetic, the concept is designed to answer "the questions of future urban mobility".
We might have expected it to be fully autonomous, freeing up the owner from driving duties, and that it would have an all-electric powertrain, reducing air and noise pollution.
But what we did not anticipate was just how deeply the German auto giant's designers, engineers and product planners were prepared to delve into the idea of a highly flexible trade van that can be easily transformed into an eminently suitable out-of-hours multi-purpose vehicle.
While utes and pick-ups are increasingly used for both work and recreational purposes, the trade-specific fit-outs in commercial vans are not in the same ballpark. With this concept, however, the vehicle comes equipped with different interchangeable bodies, depending on the purpose of use.
In presenting the concept, Mercedes has configured a classic delivery van and a 12-seater people mover, but the bodies are really only limited by our imagination – there could be one set up for any particular trade, for example, and another that serves as a luxury lounge-style limo or a mobile man cave…
With the trade body, there is a variable load floor that can be split into two levels and offers 10m3 of cargo volume. The load space measures 3.7m long, within a total vehicle length of 5.14m.
Switching between bodies can be done either automatically or manually, Mercedes says, with the automated process taking just a few minutes.
All driving functions and running gear are built into the autonomous vehicle platform, onto which the bodies are simply fixed. So the chassis will operate independently – even moving from one location to the next if required, without the body attached.
The absence of a driver's cab – with no need for a steering wheel, pedals, dashboard, etc – also frees up space for new ideas on interior design, bringing obvious benefits with the ability to carry more tools, materials, occupants, and so on.
The concept also incorporates an IT infrastructure that can perform high-level functions in real time such as monitoring stock levels of materials used and planning optimum routes between jobs to avoid traffic jams and so on.
A lot of advanced safety technology is likewise fitted to the van. With the people mover body, the vehicle uses multiple cameras and sensor systems to communicate not just with the occupants but with those on the outside.
For example, there's a large-format display on the front of the vehicle to inform pedestrians crossing the street in front of it that the vehicle has noticed them. There is also 'digital shadowing' around the side door where several hundred light units display the contours of people approaching along the flanks of the vehicle, signalling to them that they have been noticed.