Mentors of means: A funding boost for apprentices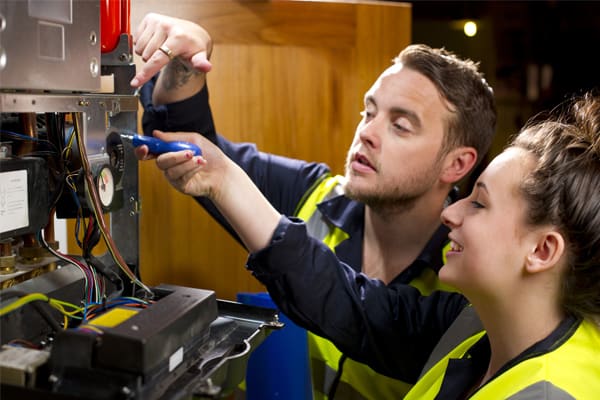 The Federal Government has announced a funding boost for its apprenticeship mentoring program, but who will benefit from it most – the tradies, or the apprentices they take under their wings? Cameron Grimes looks at what this program will bring to the building sector.
The trade industry finds itself in a predicament. As it stands, plumbers and electricians are the best paid and most in demand, but there aren't enough of them to go around.
Recent data published by the National Centre for Vocational Education Research (NCVER) shows that just over 57,000 trade apprentices were completed in Victoria last year, which is half of the figure achieved in 2012.
This significant decline in completion rates is being caused by a number of reasons, both on and off the work site, and is causing major headaches for the trade industry. Nationwide, only four out of 10 apprentices successfully complete their training.
"The reasons for 'dropping out' are many and varied – sometimes because of their workload, anxiety about their career, a personal or workplace problem, financial challenges or myriad other causes," says Housing Industry Association (HIA) managing director Graham Wolfe.
"A business with limited funds and tight overhead costs can't afford to lose apprentices on a regular basis."
According to a recent NCVER study, 33.4% of apprentices surveyed failed to complete their training due to 'problems with the employment experience.' A further 16.9% failed because they did not enjoy the type of work or industry, and 14.6% left their apprenticeship for 'something different or better.'
In an effort to curb these drop-out rates, the Federal Government has announced a significant boost to the funding it provides to its apprenticeship mentoring program.
The Industry Specialist Mentoring for Australian Apprenticeships (ISMAA) program was announced by the government as part of the 2017-18 budget, and will replace the previously implemented Australian Apprenticeships Mentoring Program (AAMP).
The $60m program will aim to provide assistance to 45,000 apprentices in the first two years of their training, and in turn increase the retention rates of those apprentices struggling to overcome the hurdles of the trade industry.
The program was officially announced by Assistant Minister for Vocational Education Karen Andrews in January, with the government intending to work closely with mentoring organisations to ensure the highest level of support is being delivered.
"The extra funding is to provide a new service in addition to the support currently provided to apprentices and trainees through the existing Australian Apprenticeship Support network," Karen says.
"We are engaging organisations with extensive experience in specific industries that are either going  through structural change or considered high priority.
"Contracts were awarded following a comprehensive tender process overseen by the Department of Education and Training.
"Successful tenderers will provide the mentoring under specific Program Guidelines to ensure 'at risk' apprentices receive the best possible support to complete their training."
Past mentoring programs, such as the AAMP, had an almost exclusive focus on apprentices' needs regardless of their industry, and ignored focusing on supporting those within industries undergoing, as the National Australian Apprenticeship Association (NAAA) describes, 'structural change.'
Because of this, the ISMAA program will prioritise assisting apprentices from trade industries experiencing rapid decline or rapid growth.
Though the extra funding will take time to bear the fruits of its labour, Graham believes both apprentices and trade industries will benefit in the long run.
"This scheme is a win-win for everyone," Graham says.
"Apprentices are guided through the hardest part of their career training and are given the opportunity to thrive in their work place, going on to a productive career as a fully qualified tradesperson in their chosen field.
"Industry needs apprentices. Apprenticeships provide an important flow of skilled tradespeople into our industry, lifting our workforce number, capacity and capability."
The HIA is one of 24 mentoring providers that will receive additional funding through the ISMAA.
The program is also tailored to provide support to individuals undergoing training in the accommodation, hospitality, hairdressing and health care industries. The program will also have a strong focus on reaching out and supporting apprentices working and living in rural and regional areas of the country.
No two apprentices face the same struggles in their training, which is why the ISMAA program has been developed to tailor to each individual's personal needs.
"There are a variety of reasons why young people withdraw from apprenticeships that are not necessarily related to their ability or skill level, and this new program will provide intensive one-on one support to them," Karen says.
"Each apprentice will be provided with an Individual Mentoring Plan that has been tailored specifically to address any obstacles they may face during the critical years of training."
The Individual Mentoring Plans can provide the following to apprentices:
Support for off the job learning requirements.
Career and pathway advice relating to an industry undergoing structural change.
Motivation and confidence building to help achieve potential.
Positive role modeling to encourage independence and self-reliance.
Support and advice to apprentices during periods of personal difficulty.
In addition to the mentoring program, the Federal Government is offering trade support loans of up to $20,000 to assist apprentices with cost-of-living expenses. Apprentices who successfully complete their training will be offered a 20% discount on repayments.
While retention, support and completion of training is paramount towards the growth of trade industries, others believe the next step is to improve the promotion and benefits that apprenticeships provide.
National Electrical and Communications Association (NECA) chief executive Suresh Manikham believes that apprenticeship completion rates have been relatively stable in comparison to the intake numbers.
"Intake rates have dropped as we've found it harder to recruit apprentices to the courses – this is happening across all trades," Suresh says.
"We haven't been great at providing information to schools to demonstrate that this is a good career pathway for many kids, and that they don't have to go to university to have a secure, well-paid future career."
A new program being implemented does not come without potential risks. With the extra funding, the ISMAA program aims to reach out to a larger quantity of apprentices, which in turn will require a significant increase in mentors available.
In its consultation paper regarding the new program, the NAAA stated that the annual intake expected by the federal government is more than double that of the apprentices assisted under the AAMP.
"This will require a workforce of 800 mentors," the NAAA consultation paper reads.
"Overcrowding and duplication needs to be avoided so that employers are provided with a seamless service."
The paper, which was published shortly after the 2017-18 budget announcements, also argues that the program needs to be flexible in order to accommodate individual apprentice's needs and availabilities.
"A key success factor is the ability to tailor the mentoring program based on the risk factors that become apparent during the assessment phase and as the apprentice progresses.
"The ability to respond quickly and effectively is more important than providing a standard six hours of support across 12 months.
"Some apprentices will need many more hours of support than this and some less. But in all cases the approach needs to be rigorous, resourced appropriately and responsive to the evolving needs of the apprentice."