Legrand's LED Satellite wins a Commendation Award at the 2018 IES Awards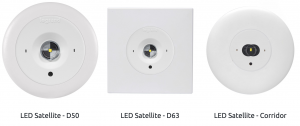 Held at Sydney's Star Casino, the event housed over 500 guests in lighting design, lighting manufacturing, electrical engineering and architecture.
Legrand's LED Satellite Series won a Commendation Award at the 2018 IES Awards for its excellent performance and reliable design.
The LED Satellite Series is renowned for its reliable operation, minimal energy consumption and lamp longevity.
However, a standout feature is the range's recent optical performance upgrade.
Available in D50, D63 and Corridor classifications, each optic is designed to meet a range of commercial applications.
Legrand is proud to be recognised by an industry leader that values excellence in lighting manufacturing and design.
However, the IES Awards goes beyond acknowledging and rewarding businesses for their creative designs: the event's key aim is to educate people in the field on the latest trends and technologies, as well as recognise new, innovative and authentic contributions to the lighting field.