IXL introduces new Tastic Neo Modules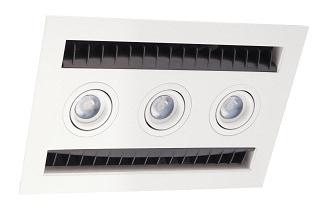 IXL's Tastic Neo family has expanded. The three new modules set to join the fold include: a vent n lite module; a vent module; and a heat module.
[gallery_images_placeholder] The new Neo modules have been designed as a natural extension of the current Neo single and dual models – offering the light, vent and heat components as singleor dual function modules.
Ingeniously designed by local manufacturing firm IXL, the range has been conceived to hand over the reigns to consumers for customising their own unique bathing environment. What is once again revolutionary thinking by IXL – consumers select the components they want – ventilation, lighting or heating – and the placement of those components in their bathroom.
Neo modules can be selected as stand-alone bathroom comfort solutions or as additional modules to coordinate with existing Neo single or dual units.
The creation of Neo modules is a direct response by IXL to market demand for separate components – vent, heat and light – that mirror the high-end, yet simple and unobtrusive aesthetic and advanced functionality of the Tastic Neo range.
As one of Australia's longest running companies, IXL were responsible for the invention of the original IXL Tastic® three-in-one heat, light and ventilation solution for bathrooms more than 30 years, and more recently, Tastic Neo. IXL has a proud history of investing in product development that adapts and evolves in response tothe changing needs of consumers over time.
"Flowing-on from the positive uptake of Tastic Neo – our discussions with architects and designers indicated strong call for the lighting, heating or ventilation components of the Neo, to be offered singularly and in the same aesthetic," says IXLindustrial designer Paul Iversen.
Adding luxurious comfort and providing the design flexibility to complement individual design and bathroom layouts, bathing environments can now be customised in an endless variety of ways.
Examples include:
Position a Neo heat module above your preferred drying possie; or above the bath for an added touch of decadence.
A Neo ventilation module is ideal for bathrooms that may already have a centrallight source and only require ventilation function; the ventilation module can also be positioned directly above the shower.
For bathrooms where there is an existing heating source such as hydronic or infloor heating, a Neo Vent n light module is a smart contemporary lighting andventilation choice as a duo or as separate modules.
Like parent product Tastic Neo, the Neo modules meld functionality with beautiful,clean-line aesthetics. The same quality componentry can be expected in the modules such as: gimble mounted, adjustable and splashproof, 7 watt LED lightswhich provide a cool, neutral and true to colour quality light source; while Neo's instant heat is all about comfort and 100% efficiency. All products in Neo's extended family can be matched with the option of an all white or silver powder coated aluminium finish.
As a local Geelong-based company, Tastic Neo and Neo modules carry theassurance of being consistently high in quality with access to local customer support should that be required.
FEATURES AT A GLANCE: THE IXL NEO MODULE COLLECTION
Vent n lite module
3 x gimbal mounted 7 W LED downlights; side ducted in-lineblower; back draught shutters; 380m3/h extraction capacity
Vent module
Side ducted in-line blower; back draught shutters; 380m3/h extractioncapacity.
Heat module
1x 800W Tungsten Halogen Heat Lamp, frosted toughened glassheat shield.
Modules are hard wired and IXL recommends that installation is carried out by aqualified electrician.
ADVERTISEMENT

ADVERTISEMENT