Isuzu demos updated N Series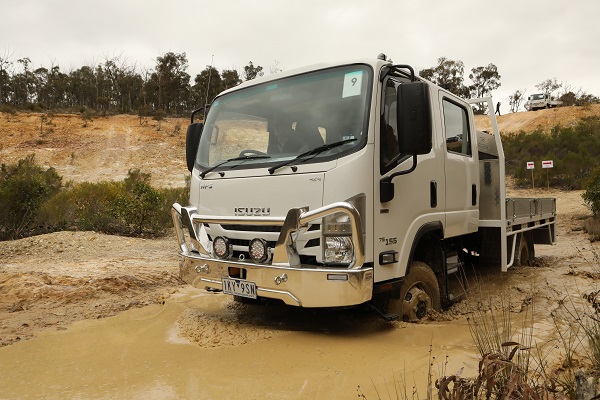 Isuzu Australia has launched its updated N Series light truck, bringing a broader availability of its automated manual transmission (AMT) as well as a host of detail mechanical, cabin technology and specification changes across the huge range that is now available in almost 70 different configurations.
Among the headline acts is the introduction of the NPS 75/45-155 4×4 AMT model, which is billed as the first-ever two-pedal 4×4 light truck on the Australian market – a direct response, Isuzu says, to customer demand for a reliable, rugged and easy-to-operate vehicle that can access difficult job sites and is available in both 7.5t and de-rated 4.5t (car licence) GVM ratings.
The NPS 4×4 AMT comes in single and crew cab body styles and combines the five-speed AMT with a part-time 4WD system and Isuzu's familiar 5.2L 16-valve '4HK1-TCN' four-cylinder diesel, which produces 114kW of power at 2,600rpm and 419Nm of torque from 1,600-2,600rpm.
When low range is selected, the AMT reverts to clutch-less manual control mode, which keeps the selected gear engaged. Local engineering work has also seen the transmission specifically calibrated for Australian off-road conditions and usage patterns. A five-speed manual gearbox remains available, too.
The 4HK1 engine is also used in various NPR and NQR models and comes in a higher state of tune – 140kW/513Nm – on select variants. In both 114kW and 140kW guise, the engine is now fitted with a diesel oxidation catalyst (DOC) exhaust emissions system, which enables compliance with the current Euro 5 standards and is 'maintenance free' in that it does not require particulate filter regenerations or the need for an additive such as AdBlue.
The other powertrain in active service in the N Series – across the entry NLR, NLS and NNR lines – is the 3.0L 16-valve '4JJ1-TCS' four-cylinder diesel engine, producing 100kW at 2,800rpm and 375Nm from 1,600-2,800rpm. It is paired with a five-speed manual or optional six-speed AMT.
Notably, service intervals for all N Series models have also been extended, with 4JJ1 variants at 12 months or 15,000km, while 4HK1 versions are now at 12 months or 20,000km.
Among other changes, the bulk of NNR models have picked up independent front suspension and a rack-and-pinion steering box, with both revisions done in the name of creating a more car-like driving experience – in essence, improved ride and handling across a broad range of road surfaces and conditions.
The towing capacity on NLR and NLS models has been uprated to 3,500kg, so gross combination mass (GCM) for these models is now 8.0t, while the rear axle ratio on select models have been revised to provide lower noise and improved fuel economy.
Cruise control is now standard across the N Series range, along with a new dash-mounted infotainment system featuring a 6.2" touch screen, updated Android Auto operating system, USB 3.0 connectivity, Bluetooth V4 and DAB+ digital radio.
Local engineering work has also seen Isuzu revise tyre specifications on some model lines, such as the NPS 4×4 swapping to Bridgestone L330 225/80 R17.5 rubber (from Michelin XZT 8.5R17.5s) – a change that the company says improves its off-road performance and gives the truck a higher load capacity, maximising the use of the steer axle's 3,100kg limit (+200kg). NPR and NNR models also now have a new Michelin tyre that is said to bring improvements in braking, mileage and durability.