iPads to find a place in home automation
The launch of the Apple iPad may have been met with some doubts, but it seems to have found a niche in the home automation market.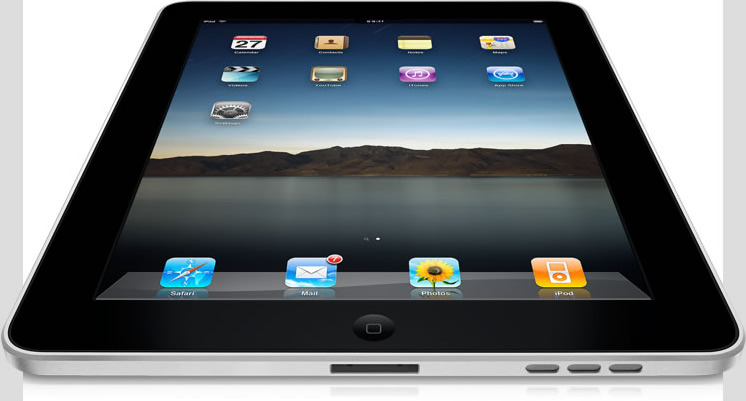 In the midst of media frenzy, CE manufacturer Apple has released the iPad, a touch screen tablet computer for browsing the web, reading and sending email, viewing photos, watching videos, listening to music, playing games, reading e-books and much more.
So much more, in fact, that the iPad is now set to challenge remote control and touch panel manufacturers in a battle for home control domination.
The iPad's responsive high-resolution multi-touch display lets users physically interact with applications and content. It is just 13.4mm thick and weighs just 0.68kg – thinner and lighter than any laptop or netbook.
The iPad's 24.6cm (9.7 inches), LED-backlit display features IPS technology to deliver crisp, clear images and consistent colour with an ultra-wide 178º viewing angle.
The tablet is powered by A4, Apple's next-generation system-on-a-chip. Designed by Apple, the new A4 chip provides exceptional processor and graphics performance along with long battery life of up to 10 hours. Apple's advanced chemistry and Adaptive Charging technology deliver up to 1,000 charge cycles without a significant decrease in battery capacity over a typical five year lifespan.
Further, the iPad comes in two versions – one with WiFi and the other with both WiFi and 3G. The iPad includes the latest 802.11n WiFi, and the 3G versions support speeds up to 7.2Mbps on HSDPA networks.
Despite the initial fanfare, however, it was quite an inauspicious start for the tablet-style touch screen computer. A Retrevo Pulse study, which gauges real-time responses and consumer demand, was conducted during the device's launch. It looked at consumer interest in buying the new iPad, but the results indicated a failure to convince any new buyers to consider doing so.
Further, not only did Apple fail to convince new buyers, it may have lost many potential buyers who said they "don't need" an Apple tablet computer.
Unfortunately for Apple, the number of respondents saying they had heard about the tablet but were not interested in buying one, doubled from 25% before the announcement to over 50% following the announcement (see Figure 1).
Responses to a more direct question that was asked before and after the announcement further reinforced the bad news for Apple. When asked before the announcement if they thought they needed the tablet, 49% of respondents answered "no" with 30% saying they needed to know more about it before they could decide.
After the announcement the percentage of respondents indicating they needed more info had dropped by half, but the overwhelming majority of those who felt they now had sufficient knowledge decided they didn't need a tablet. This raised the total number of respondents saying "no" to the iPad to 61% (see Figure 2).
But this isn't necessarily a bad thing.
When the iPod was first launched in 2001, analysts offered mixed reactions.
IDC analyst Bryan Ma said Apple may take some heat for entering the consumer electronics market, which typically has lower profit margins than Apple gets from its computers.
Stephen Baker, an analyst at NPD Intelect, predicted that the device may have trouble digging out a niche in the market.
That was 240 million devices ago.
The iPad comes home
American control system manufacturer Savant, an Apple Proprietary Solutions Provider, already leverages Apple's popularity with its Rosie iPhone control app. So it is understandable why the company was one of the first to adopt the iPad into its product line-up.
"We see the iPad becoming one of the primary user interfaces for our system," says Savant president Jim Carroll. "In a similar way to our iPhone and iTouch applications, we believe that through the iPad we can achieve the best level of control and media content feedback in the industry."
Jim says that the launch of the iPad will soon be recognised as a watershed moment in the home automation industry.
"I truly believe these devices will prove to be a direct replacement for legacy systems. Based on the apps that we have for them, it looks like the iPad, from a service application perspective, could directly replace the very expensive in-wall and mobile devices that exist today."
So what does this mean for legacy touch panel manufacturers? How will the iPad affect them? Will they survive?
"I think there are massive changes coming," Jim says. "In order for these legacy companies to survive, their business models need to change.
"And so does the way dealers make money. For a long time there has been quite a heavy mark-up on hardware and not enough time spent on educating the end user on the value a systems integrator brings to the table.
"We've already seen the commoditisation of TVs, speakers and amplifiers, so dealers are already struggling to make money.
"Apple has invented a new category, as they are so famous for doing, and they're going to continue to build the iPad into a category unto itself, and we're going to continue leveraging it into home automation and control."
Control system manufacturer Crestron has also incorporated the iPad into its product range. A simple download from the iTunes App Store transforms the iPad into a full Crestron touch panel.
The Crestron iPad app provides real-time control of AV systems, lighting, shades, room temperatures and more, from any location. Just like the iPhone and iTouch, the iPad seamlessly communicates with a Crestron control system via the 3G, 3GS or EDGE cellular networks, or WiFi.
"Crestron has been integrating personal computer devices for more than a decade," says marketing communications director Jeff Singer. "Through all those years, we have always developed technology to provide full, remote Crestron control from PCs, laptops and mobile devices. The introduction of the iPad, while creating a lot of buzz in the market today and certainly being a cool product, doesn't change anything for us.
"Installers will be able to use them whenever a client wants to use them. It all comes down to choices. Clients should have lots of choices and be able to use the right interface in the right environment for them.
"We give our dealers every opportunity to say "yes" to their clients – we have more touch panels, keypads, handheld remotes, as well as computer and mobile device integration solutions than any other company."
Jim says that prior to the iPad, Savant's leads were generated by consumers that had legacy control systems but felt there was a better way to do things: "They were very intrigued by our value proposition compared to the legacy guys."
And, in order to capture this market, he recommends installers to change their business plans to one of low-cost, high-frequency.
"The generation of user that is buying these tools grew up with computers and have been trained that you pay relatively little dollars for the physical hardware, but you pay a lot more money for the software. We can spend a couple of hundred dollars on a PC, but then spend a couple of thousand on CRM software to sit on top of it.
"From an installer's perspective, they should be making their money on the user experience – not just the GUI, but the inclusion of features. And an imbedded Apple widget that is free adds value."
Jeff agrees that programming and custom GUI design will prove to be a profit centre for installers, but he also says that no mobile device can replace a complete home control system: "Touch panels offer features, function and design that the iPad doesn't."
According to Jim, "It's simple, really."
"The days of selling a $10,000 touch panel to a user have come to an end."