Instant disaster: the dangers of working with explosive materials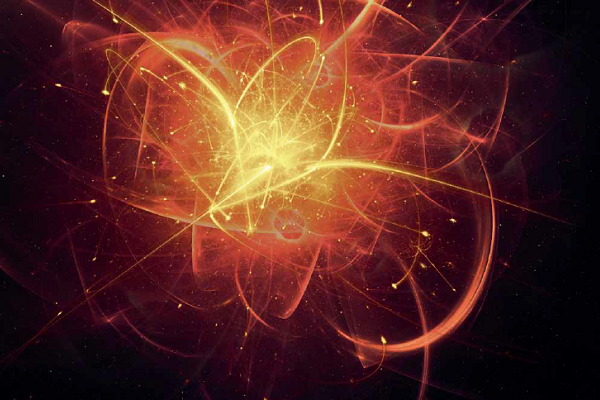 Molten metal, plasma, intense heat and light, gas, intense sound and pressure waves can all be released in milliseconds. Pat Mynett outlines the dangers.
Arc flash results from insulation breakdown, causing an excessive flow of current between phase and earth, phase to neutral or phase to phase.
This current flow may be thousands of amps, so it is measured in kilo Amperes (kA).
The energy released from an arc flash is governed by the system voltage, the generation capacity available, the impedance to the source and the time the fault is on the system.
To get some idea of the energy that can be released – a 415V system with 5kA of fault current flowing for 500ms or 2.5kA flowing for one second would have the energy of a stick of explosive.
A 200kVA transformer's fault current at the 415V terminals can be up to 6,170A. A 100kVA transformer's fault current can be up to 3,085A. Both have the capacity to produce the explosive energy mentioned.
How is the energy from an arc flash measured? The energy at the source is different from the energy received. It all depends on where you stand – the distance to the arc flash source.
The energy received from the arc flash is called incident energy and is measured in calories per centimetre squared (cal/cm2).
Incident energy is the amount of energy impressed on a surface, a certain distance from the source, generated during an electrical arc event.
So what actions can initiate an arc flash? All of these actions occur frequently, but only a very few initiate an arc flash:
opening or closing a circuit breaker;
racking a circuit breaker in or out;
working live;
opening or closing a switch;
opening or closing an isolator;
dropping tools;
testing; and,
replacing parts.
However, they are not usually the actual cause – there are other contributing factors.
Because the initiating actions are part of normal operations for electrical workers, very little thought is given to the action itself.
For example, AS/NZS 3000 specifies that a modified circuit must be tested before re-energising, yet many ignore this testing. The circuit breaker is closed without thought and there is a fault with the modification. This initiates an arc flash at the modification.
If the circuit breaker has not been maintained it may not clear the fault according to the trip settings time, it may not clear the fault at all, or another arc flash may occur at the circuit breaker.
Causes can often be traced to human performance issues such as:
not concentrating (I've always done it this way);
rushing to finish the job;
taking short cuts;
ignoring standard procedures;
lack of knowledge; and,
other poor approaches.
One of the biggest issues is the lack of knowledge. Most electrical workers have heard of arc flash and have some idea of the results. However, they have little understanding of the hazards and how to mitigate them.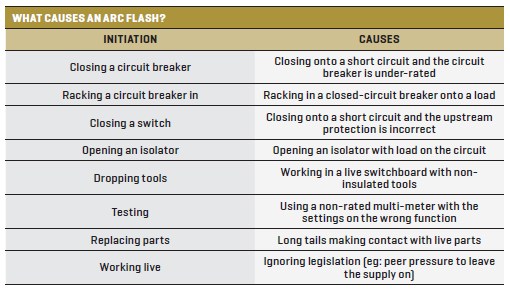 A few years ago it was regarded as an occupational hazard that electrical workers could be injured or killed from exposure to an arc flash. This should not be the case now, as arc flash is a recognised foreseeable hazard.
Australian health and safety law is quite specific about occupational hazards:
Australian Model Work Health and Safety Regulations: Chapter 3 General Risk and Workplace Management 34 Duty to identify hazards "A duty holder, in managing risks to health and safety, must identify reasonably foreseeable hazards that could give rise to risks to health and safety. 35 Managing risks to health and safety
"A duty holder, in managing risks to health and safety, must:
(a) eliminate risks to health and safety so far as is reasonably practicable; and
(b) if it is not reasonably practicable to eliminate risks to health and safety – minimise those risks so far as is reasonably practicable."
Because arc flash is now a foreseeable occupational hazard there is a duty to manage it. Yet many companies choose to ignore or pay lip service to arc flash hazards.
Worker training is one area in which little is happening. Some large companies consider a familiarisation session of one hour to be adequate. However, it takes five to seven hours to cover the training properly.
Training should include:
what arc flash is;
legislation and Standards;
definitions;
incident energy;
causes of arc flash;
personal protective equipment selection and requirements; and
arc flash risk management.
ADVERTISEMENT

ADVERTISEMENT