In development: Power over Ethernet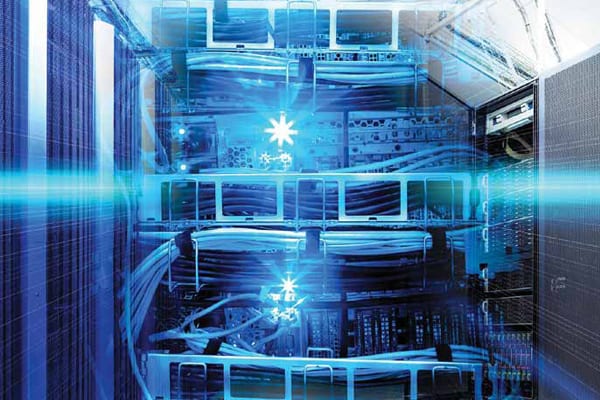 Power over Ethernet developments offer exciting possibilities, but connections need to be handled carefully. Ken Turnbull explains.
Commercial data networks are continually expanding and offering more flexibility.
This also means they are becoming more complex. Devices once thought to be 'peripherals' – such as wireless access points (WAPs), security cameras, automation and control systems, and voice over IP (VoIP) phones – are now mainstream.
The global company Commscope, which designs, builds and manages networks for a range of enterprises, says the option of powering devices over structured cabling is becoming more attractive.
In the past decade, Power over Ethernet (PoE) has emerged as an important strategy, allowing network managers, installers, and integrators to use structured cabling for the provision of low-voltage power and data to network devices.
Arcing up
However, there is a problem with PoE, and increasing power is exacerbating it.
Before PoE is supplied to a powered device, a 'PD signature' must be returned to the power source equipment in response to a polling voltage. There is no chance of a spark between plug and jack contacts when channels are being connected.
But when an RJ45 plug is removed from a jack, an arc will occur between the contacts. DC current has a greater ability than AC to sustain an arcing condition after interruption.
This arcing is normal and there is no immediate danger, but increased carbon scoring is a concern. Carbon scoring can affect the connection's performance due to data loss and may even cause a malfunction.
The issue can be dealt with by ensuring that any arcing occurs outside the fully mated contact area of the plug and jack.
Cabling Advisory Group chairman Barney Tomasich says it's a big issue in commercial buildings.
"Lots of people – including some manufacturers – don't appreciate this, but imagine the disruption to everything if you got this wrong.
"The concept of PoE up to 100W is very exciting. You could run any application on desktops with no GPOs (general power outlets) to be seen.
"But you need to choose the connector manufacturer carefully and ensure the warranty is worth much more than the paper it's written on. A 20-year warranty on connectors should cover 2500 insertions and withdrawals."
Barney says temperature is another concern of PoE systems at higher power levels. Communications rooms and cabling installations must be designed to deal with the extra heat.
Methods
Several manufacturers have developed ways of dealing with the arcing problem.
One method employed by the global infrastructure equipment manufacturer Panduit is to keep the disengagement point of the plug away from the plug and jack at the mating location.
Another is to ensure enough 'contact normal' force on the jack. This refers to the force the jack contacts exert on the plug as it is inserted.
Panduit says its jack is rated to 100g normal force. As the plug is inserted there is enough abrasion to remove carbon scoring.
Leviton is a provider of network and data centre connectivity solutions, lighting energy management systems, and security and automation applications.
Senior product manager for copper systems Grayling Love says: "We recommend using connectors with 50-μm gold-plated tines, as well as designs that distance the connection point between the connector tines and plug from the arcing damage.
"High-quality connectivity is essential for attaining the performance, reliability, and flexibility needed in today's network operations."
Background
The original PoE Standard – IEEE 802.3af – was adopted by the Institute of Electrical and Electronics Engineers PoE Task Force in 2003.
This limited the technology to devices requiring no more than 12.95W of power.
Less than three years after the first Standard was published, a demand for PoE applications greater than 12.95W prompted an update.
The revised Standard, IEEE 802.3at (PoE+), was adopted in 2009 and raised the minimum supply to 25.5W.
However, demand for more power has continued to increase. The IEEE PoE Task Force is already developing the next evolution of the Standard, known as IEEE 802.3bt, which stipulates a minimum of 49W and will potentially handle up to 100W delivered (PoE++).
It is recommended that connecting hardware be qualified to support PoE and four-pair applications by using the test schedules in IEC 60512-99-001.
The Standards body says the experience of more than a decade of installed devices provides a reliable baseline.
"In the expected range of increased power capability, there is a declining curve of cost per watt.
"Additionally, increased power efficiency by moving to a four-pair system and intelligent power management will reduce operational expenses."