ILME T-junction box, solving distribution chains in industrial applications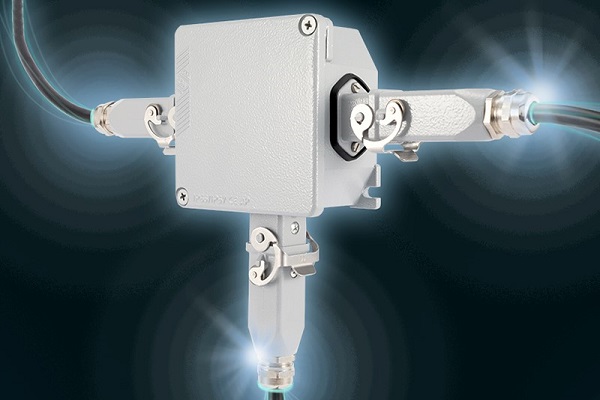 Treotham has released the ILME T-junction box CYG 9KAXI3, a ready-to-use customisable solution for all industrial applications requiring the distribution of power and control signals.
Coming pre-assembled, the system includes three compact bulkhead mounting housings with class stainless steels locking lever and anti-ageing gasket. Mounted on a robust UV resistant aluminium distribution box, the APV 9, it gives users a reliable construction which is suitable for outdoor use and IP66/67 resistant.
Thanks to its structure, it allows a power/signal bus line on the pair of aligned connectors and a derivation line on the third one, which can be disconnected avoiding any bus line interruption and making it perfect for daisy-chain distribution systems.
The T-Box can be used with the whole range of compact "21.21" ILME inserts and hoods and can be supplied in the variant for aggressive environments and for electromagnetic compatibility (EMC) according to the installation requirements.