IDEAL Networks gives advice on common PoE challenges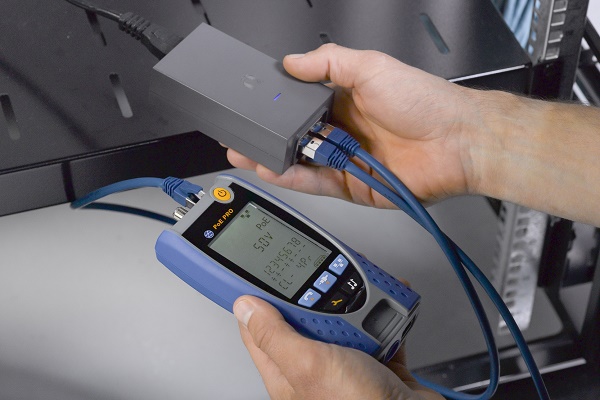 As many applications increasingly adopt PoE devices such as phones, cameras, lighting, access controls and more, IDEAL Networks offers advice to help IT technicians handle everyday troubleshooting scenarios.
"There are clear benefits of PoE for many applications, but with standards changing all the time, it can present challenges for IT technicians and cable engineers," IDEAL Networks marketing director Tim Widdershoven says.
"Consider a Voice over IP phone, for example. If it doesn't have a sticker which specifies what standard is required, technicians may not know whether the measured power passes or fails.
"However, if IT technicians familiarise themselves with the most common PoE testing scenarios and select the right test equipment, PoE troubleshooting can be far more efficient."
Scenario one: A VoIP phone isn't working
If this happens, first check if there is an issue with the phone itself: unplug it and plug in another phone to see if that's working.
If that doesn't work, take a measurement with a suitable PoE verifier to see if enough power is being provided to the phone. The PoE Pro from IDEAL Networks can test this but also provide the user with a pass or fail result.
If not enough power is getting to the device then a technician will need to check the power source, if the power comes from a switch then the comms cabinet should have the solution. If it's an injector then this could be located elsewhere.
Once at the power source, perform another measurement to see if it's providing enough for the device. If this is sufficient, then the reason will be due to cable length or attenuation.
"If there is not enough power from a switch this is often an indication that the port is incorrectly configured and has been set with too low a capacity," Tim says.
"To troubleshoot this, the switch will need to be reconfigured with the right power budget for the device."
Scenario two: A VoIP phone needs replacing with a higher power device
If an application wants to uninstall one type of device with one power requirement, including a VoIP phone, and replace it with a completely different device such as AV equipment, a CCTV camera or access control, it may need more power to function.
"In the past IT technicians would use trial and error – installing the device to see if it would work," Tim explains.
"However, to help IT technicians save time, PoE Pro can now be used to check the maximum power draw possible at the point, ascertaining if the system is up to the job before the new device is installed."
Scenario three: An IP CCTV camera is stuck in boot cycle
When a CCTV camera boots up, it's likely to run through a test of all its extended functions including tilt-pan-zoom, heaters or wipers. Because of this, it's likely to draw a lot more power than typically required for a normal operation. If this power isn't available then it can get stuck in a continual boot cycle.
This presents an issue as it may appear to have enough power and meet the standard, but there may be an issue with the initial start-up.
To troubleshoot this, technicians should measure how much power the camera requires on start-up and then using a measurement device, test the maximum power needed and then act accordingly.
"These are just a few common scenarios – IT technicians working with PoE undoubtedly will face others," Tim says.
"However, by mastering PoE troubleshooting practices and selecting the right equipment – such as the innovative PoE Pro verifier – the efficiency and profitability of jobs can be improved."
The PoE Pro from IDEAL Networks also removes the need for any separate testers as it's both a data cable and PoE verifier. All cable testing features are those of the VDV II Pro from IDEAL Networks.
ADVERTISEMENT

ADVERTISEMENT