IDEAL Industries releases Gen II Lever Wire Connectors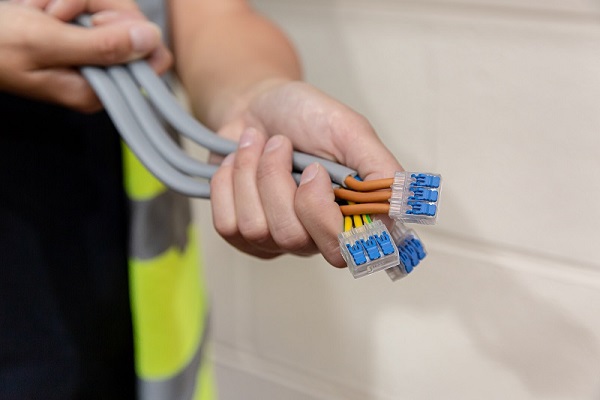 IDEAL Industries has released its Gen II Lever Wire Connectors for faster, easier and safer wire terminations.
Ideal for wire termination installation with a high level of power consumption up to 32A, the IDEAL Industries Gen II Lever Wire Connector range provides a versatile solution suitable for joining solid, stranded or flexible conductors.
Two, three or five-port models have been made to enable electricians to select the right connector or combination of connectors for each termination. Gen II Lever Wire Connector Range also allows electricians to secure cables in place in seconds with no screwdriver or crimping required and a simple strip, push and connect action.
The range has levers designed to open in the opposite direction to the insertion port, locking the cables into position to prevent any accidental loosening or pull out to ensure a safe and secure connection throughout the lifecycle of the installation.
The clear window at the bottom of the connector for all the IDEAL Industries Gen II Lever Wire Connector models enables easy inspection and there is a check port for testing, enabling full safety and consistency verification at the point of installation.
Designed to provide a versatile and cost-effective solution for faster, easier wire terminations, the IDEAL Industries Gen II range is re-useable and allows the use of multiple wires of different sizes and types within the same lever connector.
All models can be used with solid or rigid stranded cables of between 0.2mm² and 4.0mm², while the units are suitable for use with any flexible cable from 0.14mm² to 4.0mm². Each connector features a built-in wire strip guide to enable installers to check the correct stripping length and, for solid and stranded cables, once the wire has been stripped, it can simply be pushed in with no need to lift the lever.
IDEAL Industries are providing Gen II Lever, Push-In and SpliceLine in-line wire connectors in jars of 30, 50 or 100 pieces, enabling contractors to try the Gen II range for the first time.
ADVERTISEMENT

ADVERTISEMENT