Hyundai heavy-duty hydrogen EV truck hits the roads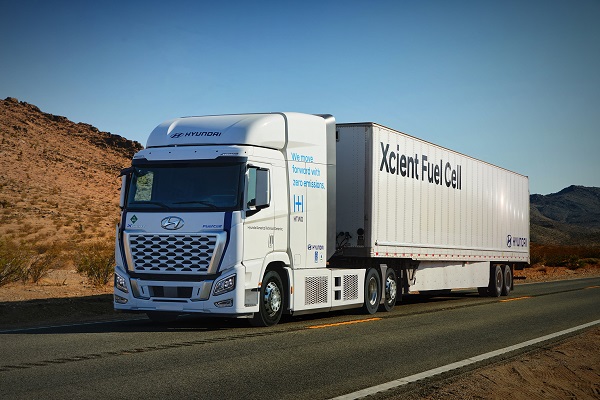 The Hyundai Motor Company has announced its plans to deploy the hydrogen fuel cell electric heavy-duty trucks in California. The demo trucks are based on the XCIENT Fuel Cell, the world's first mass-produced, heavy-duty truck powered by hydrogen.
Debuting in Switzerland in 2020, the XCIENT Fuel Cell has proven its commercial viability through more than one million kilometres of driving in real-world conditions. The U.S. model provides a maximum driving range of 800km.
Hyundai will leverage insights gained from these public projects to develop its zero-emission commercial fleet business in the U.S. and establish local partnerships across the value chain.
The aim is to deploy 30 XCIENT Fuel Cell trucks in northern California by early 2023
This will be the largest commercial deployment of Class 8 hydrogen-powered fuel cell trucks in the U.S.
Glovis America, a logistics service provider, will be the fleet operator of these trucks. Macquarie's Specialised and Asset Finance business, part of its Commodities and Global Markets division, will finance the trucks through a lease to the operator.
"We are proud to fund this hallmark deployment of 30 hydrogen fuel cell electric trucks and improve the air quality in Northern California," California Energy Commission (CEC) deputy director of fuels and transportation Hannon Rasool says.
"These investments will support zero-emission trucks and infrastructure development and deployment as part of the US market ecosystem. Public and private project partners have come together to take a big step forward in decarbonising freight and goods movement, as part of CARB and CEC's clean air initiatives."
Because the hydrogen will be stored in greater quantity on the vehicle in tanks rated at 700bar, or about 10,000psi, of pressure. The maximum gross combination weight of Class 8 XCIENT Fuel Cell truck will be more than 37,000kgs.