Process instrumentation and control can open up horizons for electricians. Glen McMurtrie shares his thoughts on an important area.
Paradoxically, process instrumentation can be described as the electrical trade that isn't.
It is actually the science of continuous measurement and control.
Practically any refining, energy, manufacturing or treatment industry relies on effective, accurate measurement and control of physical variables.
These variables are wide ranging and can include pressure, temperature, flow, level, density, weight, pH, liquid conductivity and more.
Instrument technicians, or 'instros' as they are commonly known in Australia, require an understanding of these fundamentals and the various technologies used for measuring them.
For example, there are many ways of measuring fluid flow in pipes depending on the fluid's numerous characteristics. The technician must be able to select and install the most appropriate flow transmitter to ensure a long, trouble-free service life.
That's the first step – measurement. If we can't measure something it is pointless trying to control it.
The technician also must have extensive knowledge of telemetry (signals representing the quantity of variables), proportional-integral-derivative (PID) control and final control elements that influence the quantity being measured.
These final control elements are usually valves, variable-speed drives connected to motors, and silicone control rectifiers connected to heating elements.
The measuring device and the final control element are connected to some physical system that we call the process.
It is important not to confuse process instrumentation with factory automation, in which several sequences and conditions are constantly repeated at high speed. Although the two often meet, it's a continually changing dynamic world with all sorts of physical variables being measured and their quantities controlled.
So why study process instrumentation and control? Easy – you will never be bored on the job again.
Coupled with an electrical qualification, the instrumentation trade opens up another level of knowledge and responsibility in your workplace.
Instead of caring mainly for the electrical infrastructure and components of a plant, you will take a holistic view of how the plant or process actually works. It's the number one rule as an 'instro' – know your process.
Studying instrumentation won't make you a master brewer or a metallurgist, but it will give you an insight into processes work. It doesn't matter whether the plant is brewing beer or processing minerals: temperature, pressure, flow, etc, are the same.
What can you expect when studying the trade? You start by covering the basics, piping and instrument diagrams, temperature and pressure scales, 4-20mA current signal loops, calibration Standards and traceability.
This gives learners a solid foundation on which to build later in the course.
From there you start to learn about process variables, the instruments used for measuring them, and the installation, calibration, troubleshooting and maintenance requirements of such instruments.
You also learn how to use process calibrators and field communication devices that are now commonplace. Gone are the days when adjustments were made solely with precision screwdrivers and spanners,
Field instruments and final control elements form one part of the trade. Another is the control equipment and control strategies used in various industries.
Starting with the ubiquitous programmable logic controller (PLC) and progressing to the more advanced distributed control system (DCS), learners are taught to 'loop tune' using live process simulators.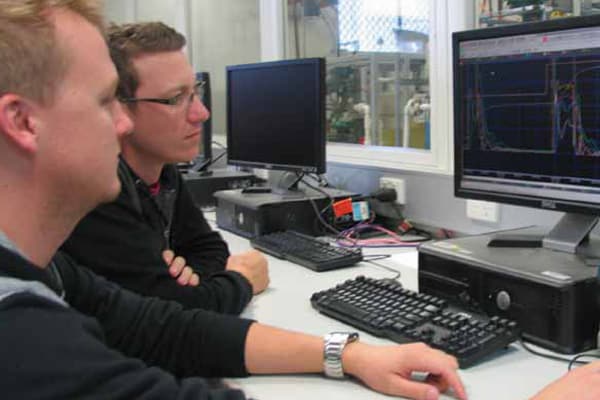 These simulators, or 'rigs', are made up of the very instruments and final control elements that learners have diagnosed and calibrated in previous lessons.
The objective is to achieve stable, robust control in many different scenarios, as well as fault finding and troubleshooting of the system as a whole.
Overall, with the knowledge gained, learners should be adequately equipped to repair and maintain instrumentation and control equipment to ensure plant safety, quality, consistency and efficiency.
Before becoming an 'instro', I worked as an electrician and refrigeration mechanic at Mount Isa Mines in North West Queensland. The site is one of the largest mining and mineral processing plants in Australia.
For quite some time I had only a basic idea of what process instrumentation and control work entailed. With the support of my employer and colleagues I undertook an apprenticeship, travelling to Brisbane for TAFE studies.
In 2009, while working in Mount Isa, I fractured my spine in a motorbike accident. I was airlifted to Brisbane and put in intensive care. Twelve months of rehabilitation followed.
Not one to be deterred easily, I adjusted to life in a wheelchair and completed my instrumentation training in Brisbane. I returned to the workforce in 2011 and was snapped up by TAFE Queensland as a teacher.
A career highlight for me was being declared joint recipient of Trade Teacher of the Year at the 2016 NECA awards night in Canberra.