Downlights have been a problem in the past, but new requirements and classifications will clear everything up. Gary Busbridge reports.
The humble LED light has assumed a dominant position in the market.
You will probably remember the bad old days of halogen MR16 downlights and their very high operating temperatures. Then we had compact fluorescent lamps with their ongoing start-up and light output problems.
All of these matters have been negated by the new era of LEDs – or are on the way to being so.
For many reasons the development of LEDs has been good for manufacturers, suppliers, installers and home-owners.
The reduction in operating temperature has overcome the nasty problem of fires in ceiling spaces. The quality of light output has improved immensely, and now there is instant start-up as well.
Maybe one underlying issue is compatibility with dimmers. There are now choices in the market for dimmer controls that work exceptionally well with a number of LED lamps. That is, the dimmers are tested and evaluated with LED lamps to provide a compatibility list.
Be aware that cheaper LED lamps will give you problems even when not used with dimmers. The most annoying is 'flickering', and this is a good reason for choosing reputable products and suppliers with extensive support.
The biggest advantage of LED lamps is that they save energy. At a recent Lighting Standards meeting we heard some interesting information the federal Department of Industry, Innovation and Science.
This department handles the Minimum Energy Performance Standards (MEPS) for lighting and power supplies. It also initiated the mandatory withdrawal from sale of most incandescent lamp types.
So here is the goss. Over the past five or so years of mandatory removal of incandescent globes, residential installations have shown a 27% energy saving, which equates to the energy used by 150,000 homes.
The saving is expected to be about 65% when all halogens and candle incandescent lamps are removed. There should be some news on that front in the next year or so.
There will be a tightening of MEPS because of the number of under-performing LED lamps still on the market. The reasons for this include light output, colour, life expectancy and dimmer compatibility.
About 40% of the power consumed in commercial situations is for lighting, so there are huge gains to be made by using LEDs. There are no specific details on the energy savings yet, but there is enough evidence to change the market through the stricter MEPS.
Already we are seeing the replacement of circular and linear fluorescents with full panel luminaires that incorporate LEDs.
Not surprisingly, the department is looking at including luminaires (the light fitting incorporating the light source) into the MEPS.
So there are big moves afoot nationally to continue reducing the level of energy for lighting. Add this to the energy efficiency requirements of the National Construction Code in the residential and commercial sectors and the savings become dramatic.
While discussing lamps and luminaires it is probably wise to update you on recent developments regarding the installation of downlights.
The latest revision of AS/NZS 60598.2.2 Recessed Luminaires (Downlights) now includes a classification regime for categorising downlights according to testing that will be consistent for all manufacturers and suppliers in Australia and New Zealand.
AS/NZS 3000 will be promoting this in the new edition come the end of 2016. That is, the classifications will be detailed in the Wiring Rules. The downlight Standard will probably be published towards the end of 2015 and will then dictate testing and marking requirements for units sold in Australia and New Zealand.
The classifications will have to appear on the product, packaging and installation instructions. To ensure the correct product is used, sufficient detail will exist at the time of purchase, installation, insulation provision and replacement.
New Zealand has been using these classifications for a few years with great success, and it seemed natural for Australia to adopt them and rationalise the markets.
Initially you will see the marking as used in New Zealand, but these will be phased out over two years in favour of new marking. The classifications are expected to be promoted by manufacturers, suppliers, contractors and at point-of-sale so that everyone understands the significance.
There are six classifications that can be used.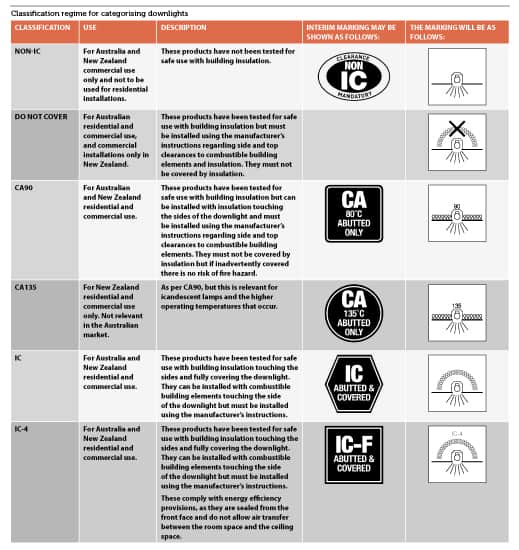 It is a requirement for the downlights to carry the correct marking, but be aware that there may still be some downlights that are not marked accordingly.
Installation instructions specifying clearance distances from comdbustible building elements and insulation should be provided.
These downlights are not tested and compliant to the revised Australian and New Zealand requirements. Just remember that no marking and no installation instructions means that you shouldn't be installing these products.
The Wiring Rules will be providing the same information as the downlight Standard so that there is a safer outcome for every downlight installation.
As you can see, solutions to the safe installation and energy-saving performance of lighting are well under way, offering peace of mind for the installer.
ADVERTISEMENT

ADVERTISEMENT