Gary Busbridge celebrates 45 years in the industry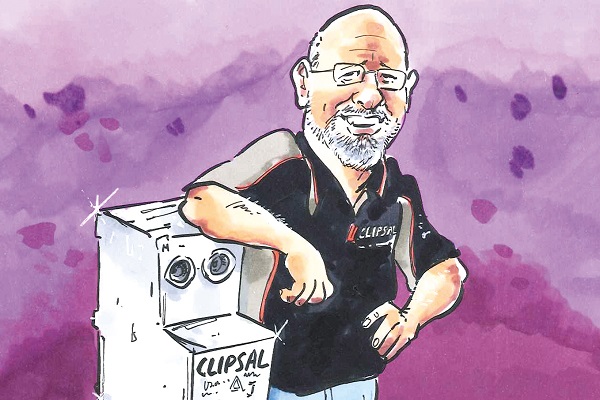 Gary Busbridge is Clipsal's standardisation manager, a contributor to Electrical Connection and a veteran of the Australian electrical industry. This year will be his 45th with Clipsal after joining in December 1975.
I've heard the saying that cats have nine lives while humans have nine professions, meaning it's perfectly fine to change your profession a number of times across your professional career, but for Gary, he says with the amount of innovation that occurs in the electrical industry, his job is constantly changing despite never switching jobs.
"I think about every five years, something changes with my job," he says.
"I was in engineering and design for probably 35 of those years but every time something changes in my role it just keeps me up a bit and I have to learn something new. So every five years or so something changes and I say: 'well we better get on a plane and go find out about whatever the new topic may be'."
And now with his role in writing standards for the electrical industry, he says he's seeing that innovation continue right now with EVs, solar power, residential batteries and so on.
"And then you've got the one that I'm not really up to speed with at the moment and that's hydrogen and how that's going to work, especially with EVs and power generation at home – the mind boggles," he says.
With an ever-changing industry, Gary speaks on the importance of mentorship in the industry. He says he has seen people try and stand out by themselves, but it's important, regardless of where along the line you are professionally, to have someone to bounce ideas off, talk through things and so on.
"You start to pick it up so guys from all walks of life just contribute to that overall knowledge and you don't study it in a book, but you talk about it, ask questions, watch and listen. Then you try and put it into practice," he explains.
"Robert Gerard was a good one that said, you can make your own decisions, but if you make the wrong decision I'll kick you up the bum. Just don't do it again and it's not a bad way to go – as long as you get some good background and make sure you're making the right decisions, everyone can support that.
"The opportunity for me to mentor people within the business and industry has been immense over the last five or so years."
And harping back to the evolving electrical industry, he mentions that there are plenty of opportunities for industrious young people looking to get an apprenticeship or get into the trades.
There are opportunities to start your own business and be your own boss, work with EVs, move into the data and automation side of things and much more.
"For 45 years, Gary has demonstrated commitment, expertise and professionalism with Clipsal and the industry as a whole," Clipsal vice president Chris Kerr says.
"As the AS/NZS3000 Australian chairman, he has helped advance standards and is often called 'the industry bible' – he literally rewrote the rules on wiring.
"A true industry thought leader, Gary has always advocated for quality and safety. He continues to support the future of the industry by educating and championing thousands of Club Clipsal members and sparkies across Australia. He has helped Clipsal grow into market leadership with his passion and expertise and we thank him for his efforts and dedication."
When asked about what one of the biggest innovations in the industry Gary has seen, he went straight to the convergence of electrical and data, something Clipsal worked hard on years ago: "Clipsal made a concerted effort to introduce the electrical contractor to that whole skill set of data cabling and that was a step that took our industry into automation and control and all the stuff we're doing today.
"That was done back in the 2000s, around the late 1990s to introduce our customers to data and how they could install that and how it can then link to our C-Bus product which was unheard of at the time. To me, that's the biggest positive that was ever made in the industry."
And while the 45th year might've been the longest out of them all with the situation the world's in at the moment, Gary's happy that with borders reopening, he's able to spend more time with his family interstate, continue to work on electrical standards and make a couple of extra track meets in the future.