Fujitsu launches Authorised Partners program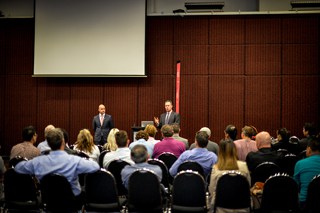 Fujitsu General has launched its Fujitsu Authorised Partner program – an initiative to provide additional support to an exclusive network of specialist, commercial and wholesaler customers.
At a series of forums hosted in major cities from October 26-30, the Fujitsu General senior management team presented the details of the new Fujitsu Authorised Partner platform.
General manager of sales and marketing Dave Smith commented on the initiative at the New South Wales launch in Olympic Park's Waterview function centre the on October 30: "While Fujitsu General has enjoyed success in the retail category, there are significant opportunities to be leveraged within the Specialist, Wholesale and Commercial space.
"The Fujitsu Authorised Partners program offers the Fujitsu family of specialist, wholesale and commercial customers more tools to achieve their sales targets, while helping to provide positive growth to the wider air conditioning category – in particular, the ducted category."
The program offers accredited partners additional marketing and product support – including resources to help build their businesses – and greater access to corporate hospitality and exclusive incentives.
Fujitsu General has invested significantly in new tools and partnerships, including:
·        The Fujitsu Authorised Partner online portal: customers can enjoy around-the-clock access to sales, product and marketing materials
·        Fujitsu General Assist: a dedicated customer service team providing extensive support for technical and customer enquiries
·        Inner Circle reward program to support Fujitsu General's specialist authorised partners as the company expands into the builders' channel
·        Cool Finance: an industry-leading finance initiative available from accredited Fujitsu Authorised Partner specialists, eligible consumers who purchase and install a Fujitsu ducted air conditioning system before 31 January 2016 can enjoy 60 months interest free.