First green hydrogen for New South Wales homes and businesses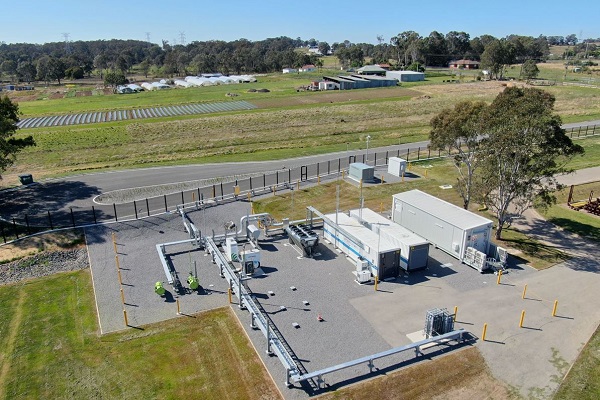 Green hydrogen is now being blended into the NSW gas network from Australia's most comprehensive hydrogen facility – the Western Sydney Green Hydrogen Hub. It's the first step to decarbonise the Jemena Gas Network in New South Wales.
Energy infrastructure company Jemena today announced that green hydrogen from its $15 million Western Sydney Green Hydrogen Hub, co-funded by the Australian Renewable Energy Agency (ARENA), is being blended into and stored in Jemena's gas distribution network.
Jemena managing director Frank Tudor says the 'living laboratory' was intended to demonstrate how the systems and technology required to generate green hydrogen and store it in the existing gas network could work at scale, and is the first of its kind in New South Wales.
"Green hydrogen emits no carbon and is a 100% renewable gas. By blending it into our gas distribution network we are driving the transition to a low-carbon future by providing cleaner energy solutions to our New South Wales customers," he says.
The project will blend green hydrogen into the existing gas network and is expected to reach 23,500 residential customers, 100 commercial customers, and seven industrial customers.
The project will also supply green hydrogen for use by transport from early 2022 through an agreement with gas supply company Coregas.
"This is the first step to decarbonise the Jemena Gas Network," Frank adds.
"As more renewable gases become available, we will continue to increase the amount of renewably generated gases blended into the network over time. This will ensure our gas network plays its role in enabling the New South Wales and Australian Governments to achieve net-zero by 2050."
The Western Sydney Green Hydrogen Hub is one of a suite of renewable gas projects for Jemena, which is also partnering with Sydney Water and ARENA on the $14 million Malabar biomethane project, turning wastewater into renewable gas, which will be delivered to gas customers in 2022.
Jemena is also building hydrogen-ready gas infrastructure at the new Bradfield City Centre, on the doorstep of Sydney's second international airport, contributing its energy infrastructure expertise to a feasibility study underpinning the development of a hydrogen hub at Newcastle, and is a partner in the Future Fuels CRC's $90 million research and development program aimed at transitioning Australia's energy infrastructure to a low-carbon economy.