Fibox ARCA Polycarbonate Enclosures from NHP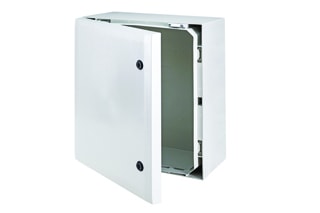 NHP have introduced the range of Fibox ARCA polycarbonate enclosures designed especially for use in harsh and demanding environments.
Manufactured using glass reinforced polycarbonate, this new combination is as strong as steel without any risk of corrosion, and at 1/6th the weight. This means extended lifetime and increased possibility of one-man installation. The rugged ARCA range is also high-impact and UV resistant, aesthetically pleasing and provides excellent protection against vandalism.
With no requirement for complicated tools courtesy of patent pending easy to use DIN-rail frame set design and innovative lockable inner door, customisation is easily achieved either on site or in the factory. Due to the polycarbonate based material there is no hazardous dust or swarf residue produced when drilling/cutting, ensuring it is safe and simple to install.
Variable depth options for internal plates as well as multiple locking options provide increased flexibility and ensure a secure solution for the demanding applications such as fish farms, meat works and fertiliser bagging machines. An IP 66 rating with fixing points outside the IP rated area and UV stabilised material provides peace of mind for use in long term outdoor installations such as pole mounted telecoms and coal transport terminals.
The Fibox ARCA polycarbonate enclosures are available in 7 common sizes, with NHP capable of providing custom milling to suit your requirements.