Evie Networks charges up Macca's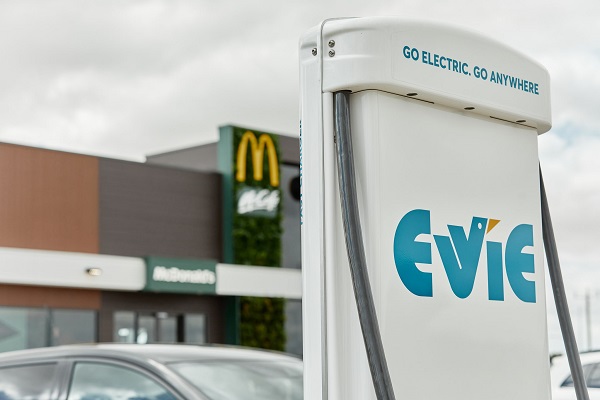 Evie Networks has partnered with McDonald's to create Australia's largest EV fast-charging network, giving customers the ability to charge their EVs while eating at the fast-food chain.
The deal will deliver its inaugural sustainable EV charging site to McDonald's Australia's 1,000th restaurant opening at Melton South, Melbourne. A second site is scheduled for Queensland in 2021, with further site locations being explored.
Evie Networks chief executive Chris Mills says the long-term partnership with McDonald's Australia would help realise the company's ambition to give EV owners across the country the freedom to travel anywhere: "We're excited and proud to be creating a more sustainable future alongside McDonald's Australia, which has restaurants in prime, accessible locations throughout the country.
"This partnership will also prepare McDonald's for the anticipated increase in demand from fleet and rideshare operators for reliable EV charging infrastructure as more drivers transition to EVs.
"In London, Uber has announced that it is aiming for every car on its app to be electric within five years, and DiDi has registered almost one million EVs on its platform in China.
"We want to influence and support this transition in Australia and the partnership with McDonald's will help make EVs a more mainstream option for drivers and businesses with fleets," he says.
The site will feature two 50kw Tritium chargers powered by 100% renewable energy and will add 100km of range to an EV in as little as 20 minutes, giving drivers time to enjoy this future-forward site's new amenities.
McDonald's Australia director of supply chain and sustainability Kylie Freeland adds that the site was part of a the brand's commitment to reducing its environmental impact: "Restaurant 1,000 is a significant achievement for us at Macca's and we're proud to continue finding sustainability innovations that will help make a positive difference to the communities in which we operate.
"Through this collaboration with the franchisee of the restaurant and key partners like Evie Networks, we hope that Restaurant 1,000 will allow us to learn quickly and expand successful innovation practices to improve our environmental impact."