element14 introduces new-to-market LCR meter from Rohde & Schwarz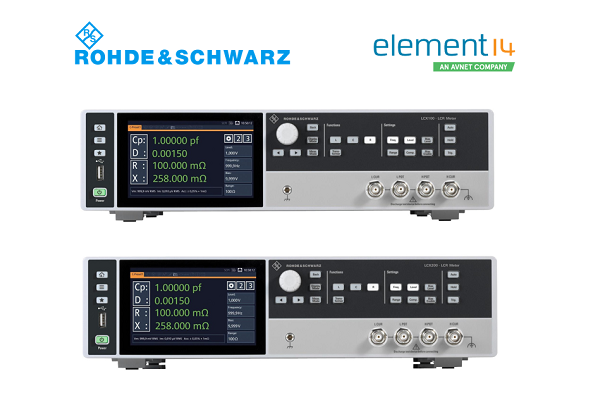 element14, an Avnet Company and global distributor of electronic components, products and solutions, is now shipping the new R&S LCX series of LCR meters from Rohde & Schwarz.
This is the first general-purpose LCR meter in the test and measurement sector to feature an extended frequency range up to 10MHz for AC components. For engineers selecting suitable capacitors, inductances, resistors and analogue filters to match a device application, the R&S LCX models offer high precision impedance values with market-leading accuracy.
The R&S LCX family of high-performance and general-purpose testers from Rohde & Schwarz can effectively take all industry-standard impedance measurements as well as specialised measurements for selected component types. The R&S LCX series offers the high accuracy required in research and development and the high speed needed for production test and quality assurance.
A key feature of the R&S LCX series of LCR meters now available is its frequency range with the R&S LCX100 LCR meter covering from 4Hz to 300kHz and the R&S LCX200 boasting an upper frequency limit of 500kHz which can be extended to 1 MHz or 10 MHz using available software.
It's easy to use thanks to a large capacitive touchscreen, a virtual keyboard to support tap-and-test measurements.
"Rohde & Schwarz has been manufacturing industry-leading technology for decades and this latest introduction to their Essentials Portfolio is no different," element14 global head of test, tools and production James McGregor says.
"This breakthrough product series greatly expands the measurable frequency limit to 10 MHz while key automation setup features, such as the integrated transformer measurements, and touch display enables our customers to take faster and more reliable measurements than ever before. We are excited to bring the R&S®LCX family of LCR meters to our global customer base."
ADVERTISEMENT

ADVERTISEMENT