Demand running hot for new-gen VW Amarok as over 10,000 EOIs registered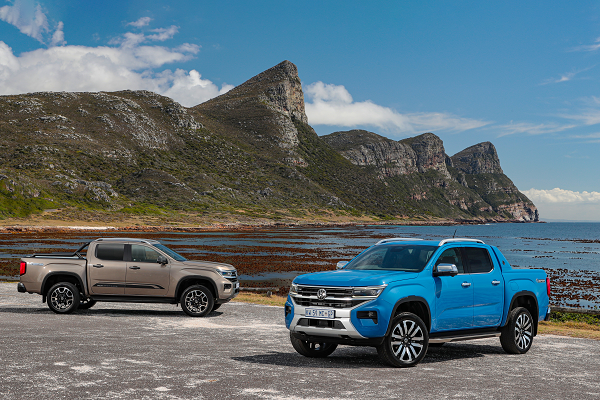 Volkswagen is confident that it can meet the demand for its new-generation Amarok ute as expressions of interest surge in Australia.
As we went to press, over 10,000 Australians indicated their interest in putting an Amarok in their driveway, with the all-new Amarok range broadening its appeal among ute buyers not just through its availability of a grunty V6 turbodiesel, but also improved safety equipment levels that previously turned off would-be customers searching for a dual-use work/family vehicle.
The Amarok officially launched at the start of May with the first arrivals of high-grade Aventura and PanAmericana variants also landing that month. Entry-level Core and Life grades are due from June. The supply line from the South African factory that produces the Amarok is expected to be healthy despite ongoing semiconductor challenges.
Pricing for the range begins at $50,990 before on-road costs for the 2.0L diesel four-cylinder Amarok Core, peaking at $79,990 for the Aventura – which is available either with a 3L turbo diesel V6 or powerful 2.3L turbo petrol four-cylinder. However, across the five grades that are offered, there's little in the way of bodystyle diversity – all of them are dual-cabs and all are equipped with switchable 4×4 or AWD drivelines.
The absence of single-cab, space cab and cab-chassis variants (as well as cost-conscious 4×2 drivelines and low-output diesel or petrol powertrains) is a signal that fleet operators and price-sensitive small businesses are not really the Amarok's target customer. Instead, sole-traders and those looking for a do-it-all vehicle for both their business and family life are likely to be knocking on VW's door for the new Amarok, with those customers putting a greater value on things like comfort, passenger space and mechanical capability.
Safety is another attribute where the new Amarok significantly improves over the old model. Now equipped with side protection airbags for the second row, the new Amarok provides a greater level of peace of mind when it comes to crash protection – a vital consideration for those looking to put not only their workmates in the car with them, but also family members.
In-car technology has also been given a substantial boost and much of the Amarok's newfound amenity comes courtesy of Volkswagen's technology-sharing agreement with Ford. Under the skin, VW's new Amarok is largely based upon the new Ranger's architecture.
And with the Ranger currently topping the ute sales charts, beating even the evergreen Toyota Hilux by a fat margin, that engineering link bodes well for the Amarok. In terms of 4×4 pickups, Ford has sold over 15,000 Rangers to date – if Volkswagen can replicate even half of that level of success, the brand will be able to secure third place in the segment ahead of rivals like the Isuzu D-Max, Mazda BT-50, Nissan Navara and Mitsubishi Triton.
ADVERTISEMENT

ADVERTISEMENT