Dell Latitude 7220 Rugged Extreme: The most powerful tablet on the market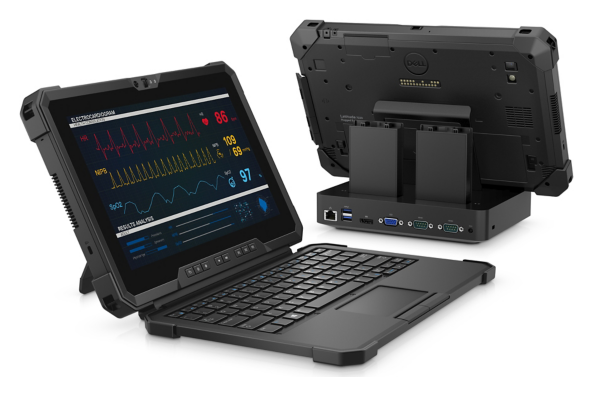 Dell has released the lightest and most powerful tablet on the market: the Latitude 7220 Rugged Extreme. It has been built to meet the demands of workers in harsh environments like on a worksite or factory.
Dropping the device will no longer make you sweat as the tablet has passed MIL-STD-810G/H testing and is also IP-65 rated for protection against dust, dirt, and water ingress, along with hazardous location Class 1 Div 2 certifications.
The device is designed to provide the mobility, durability and connectivity required to help field users and mobile workers and offers peace of mind for those in the dirtiest, wettest and most challenging workplaces.
Its screen is covered with anti-glare coatings, a 1000 NIT FHD display, multi-touch capabilities, and is response to gloves.
The Latitude 7220 Rugged Extreme features the latest eighth generation Intel Core Processors boasting up to 2TB of high performance with reliable PCle solid state drives.  Its 802.11ax Wi-Fi, global 4G/LTE broadband and assignable RF pass-through lets it stay connected wherever you may be.
A built-in infrared camera with Windows Hello facial recognition allows users to log in into their devices securely and easily. For those that are looking for a bit more security, users can opt to use the fingerprint scanner or contactless and contacted smartcard readers.
"Dell Rugged customers are often operating in the most challenging, unpredictable environments out there, and constant access to their data can be vital to their roles," Dell Specialty Products vice president Tom Tobul says.
"The new Latitude 7220 Rugged Extreme tablet offers the latest processors and several connectivity options in a compact, light device, perfect for those in the field."
"The impact of reliable technology and connectivity options for Dell customers in these critical roles should not be underestimated. The tablet's certification for use on FirstNet, and its WiFi and broadband capabilities make it easier for first responders on scene to share live updates, which could help drastically improve the coordination of resources in emergency situations."
ADVERTISEMENT

ADVERTISEMENT