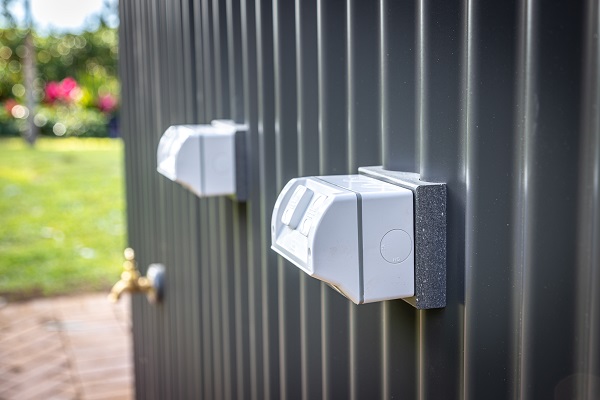 Previously a pain point for all different kinds of tradies, corrugated iron is now easier to work with thanks to Corromount. Sean Carroll writes.
Colorbond corrugated iron is synonymous with the Australian building environment. It has helped Aussies survive in the harsh summer while keeping us warm in cold winters for decades.
On top of the functionality, the iconic building material is seeing an uptick in use with new homes making use of the material that has worked so hard for so long.
However, it can be a huge pain for tradespeople trying to fit off the wavy surface.
Corromount founder Dave Irvine, a builder by trade, was tired of coming across the issue of mounting solutions specifically for this Australian material. In response, he invented Corromount, a mounting block made from a wood plastic composite that mounts to help builders, electricians and plumbers fit off cleaner and faster.
"I wanted to help builders mount products quicker. Corrugated iron is becoming more popular in Australia's building landscape and fixing a flat item to a corrugated surface provides a challenge. I wanted a way to attach fittings and fixtures to corrugated iron neatly and quickly, saving time and money. When using Corromount, it's as easy as; cut it, fix it, mount it," Dave says.
"It's made from 100% sustainably sourced and recycled materials, minimising a project's carbon footprint. It's also UV treated and can be painted, sanded or tailored to suit a specific purpose."
While still strong enough to survive through harsh weather, the units can be shaped to the desired size.
The Corromount solutions are much faster and easier to install on corrugated building material. It's made of recycled plastic and timber offcuts and the company has found that over 15 milk bottles worth of plastic is used to create a single Corromount product.
The three solutions in the Corromount range are Corromount Round, Corromount Rectangle and the Corromount Stock Sheet.
The Round is designed primarily for plumbers looking to fit-off piping to a corrugated wall, ideal for pipe or tap-mounting projects. As Dave explains: "Plumbers can trust that Corromount mounting blocks won't degrade or fail due to water damage or UV light. It can easily be drilled into to create seals and joints, perfectly flush against the corrugated material.
The Rectangle was invented for the electrician industry, giving sparkies and architects an aesthetically pleasing solution for both internal and external lights, switches and GPOs. Dave says that with minimal drilling and preparation needed, the unit takes away the pain of trying to make the electrical fitting look neat on a corrugated surface.
And finally, the Stock Sheet is purpose-built for larger products, giving tradespeople a sheet of the Corromount product that they can cut out and shape to what the job requires.
For builders, Corromount can be painted or sanded to suit any design or application, adding several benefits.
"We're always on the lookout for new distributors who want to give their customers a fantastic product that saves time and creates a versatile and great-looking finish for all trades," Dave says.
—
To find out more about Corromount, visit the website here.
ADVERTISEMENT

ADVERTISEMENT