Bobby Gane making a difference in Africa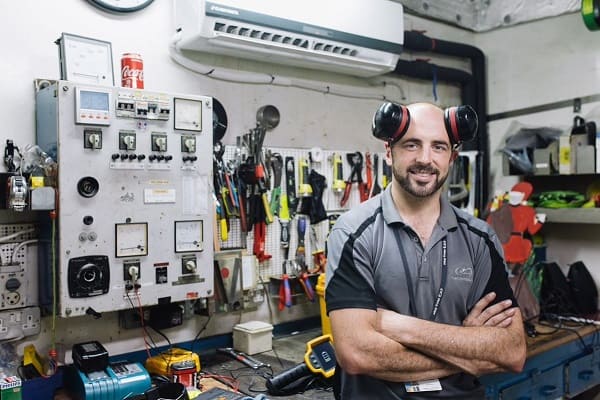 Canberra electrician Bobby Gane has found a way to use his skills to help others by volunteering at the world's largest independent hospital ship in Africa.
"A friend saw a Facebook post from Mercy Ships announcing electricians were urgently required. He told me about it, sounded amazing, now I'm here," Bobby says.
Mercy Ships is an international non-profit organisation that operates the hospital ship Africa Mercy, which Bobby signed up to serve on board for six months.
"I had a very rare cancer when I was 18 months old. It took six treatments and 18 months until they found a way to cure it.
"If it wasn't for the love of my family and the skill and devotion of the medical teams I would not be alive today."
Bobby says that anything he can now do to help can create a lifetime of difference to those in need.
"I love that Mercy Ships is devoted to people who live in Africa and fixing people with broken bodies.
"I have no medical skills myself but using my skills to keep the hospital ship functioning so that others can do that work is a tremendous honour."
The Africa Mercy arrived in the port city of Douala, Cameroon, in August 2017 with plans to provide almost 4,000 thousand life-changing surgeries on board and treat over 8,000 at a land-based dental clinic while providing health care training to local medical professionals.
"Like most countries in Africa, Cameroon is not a rich country. I don't know much about the specifics but what I do know is that there is a lot of people with limited or no access to affordable health care."
An electrician with ActewAGL back home, Bobby has been exposed to various electrical challenges before but never those found on a ship.
"I love the electrical and engineering team I serve with and love the challenge of learning to be a ship's electrician with this bunch.
"I think all services on the ship are invaluable and electrician is no different in that respect."
Bobby has also had the opportunity to mentor a local electrical apprentice named Denise.
"She has a rare opportunity to become a qualified professional in a country that favours men in such roles. She pours her gratitude into her work and her ongoing passion is an example to me of how much our presence means to the people of Cameroon."