A true lightbulb moment: Biophilia for electricians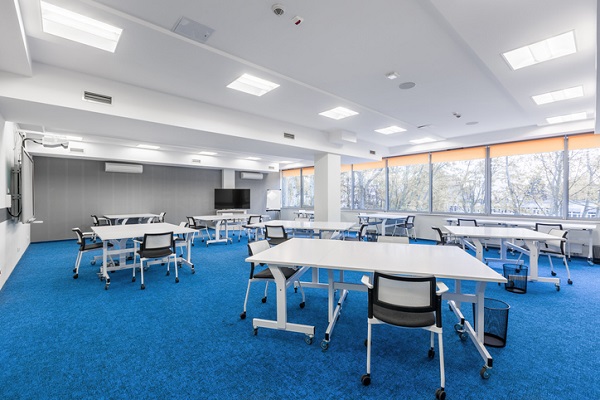 Human-centric lighting is making our day-to-day lives better and improving our mental and physical wellbeing. Sean Carroll looks into the latest trend and what electricians can learn from it.
Thomas Edison patented the first commercial light bulb in 1879, opening up a world of opportunities in everyday society across the globe. His carbon-filament light bulb was the first demonstration of a practical electric incandescent lamp and it had a myriad of applications.
Fast forward over one hundred years and lighting can be found in almost everything we do, and the core invention of Edison's lightbulb lives on to this day.
It has obviously changed tenfold since its inception with LEDs, fluorescent lights, neon lighting and much more.
Recently, with the inception of the Internet of Things (IoT), people have been able to control their lighting like never before. Where previously, a simple switch did the job, (hey, maybe even throw a dimmer on that bad boy), we can now automate lighting or control it like never before.
Whether it be a mobile device, voice assistant or control system, lighting can change in colour temperature, colour, brightness and much more.
But what can these different settings do for us? Yes, it's pretty cool to make your house a deep red but without developing negatives in a darkroom or running a certain type of establishment, it can be a bit gimmicky.
Fortunately, with the increased control and a larger spectrum of colour and control, there has been much advancement that improves both mental and physical wellbeing among people. Dubbed human-centric lighting (HCL), it uses lighting to mimic natural light that support our body's rhythms creating a more balanced relationship with the spaces we inhabit.
As the Lighting Council of Australia (LCA) puts it, it's the next frontier for the lighting industry: "HCL systems go beyond the energy efficiency improvements of LED technology and deliver benefits that consider both the visual and non-visual effects of light," LCA chairman Tony Todaro writes in the March edition of LCA's Illuminations newsletter.
"The non-visual effects of light include wellbeing, productivity and comfort of the occupants in the built environment."
The LCA has recently established a working group intending to research the best practices to install and operate these systems. The benefits of HCL are understood in the scientific community, but at the end of the day, the electrician needs to be the link between science and reality.
HCL essentially tries to align our lighting with our biological clock. Think back to caveman times when our ancestors would rise with the sun, be active during the bright, midday hours of the day and then slowly get ready for bed as the sun goes down.
Side note: I like to imagine cavemen 'getting ready for bed' includes a cup of tea and an episode of Ozark.
With the number of lights and screens around us today, our natural body clock is worlds away from that simplicity. This pattern of following the sun can be referred to as our circadian rhythm and continually disrupting this cycle can negatively affect mood, wellbeing, lead to depression and anxiety as well as gastrointestinal discomfort.
HCL in commercial settings
Many lighting companies have recognised the importance of HCL and tunable white (TW) lighting which is the capability to change the colour temperature and light levels of the luminaires to affect serotonin and melatonin in our bodies like the sun does in the nature.
"We've been working in this space for some years with our own products that we developed with partners overseas," Pierlite group technical manager David Blackley explains.
This kind of lighting originated overseas where the natural lighting experience is vastly different to Australia. In some European destinations, the amount of natural light can be much more or less than here, meaning they have to install some kind of lighting solutions to imitate and reflect the real-time.
"So, we have adapted this to the Australian market and the main customers we're seeing so far are in healthcare, education and commercial offices," David adds.
"We spend so much of our time inside whether that be school or work and it's important to improve the lighting quality for all of this time."
Pierlite recently partnered with the New South Wales government to provide LED lighting for several NSW-based schools. Named the NSW Lighting Upgrade Program, it provides solutions that are flicker-free, low glare and offer better colour rendering.
"If you improve these kinds of things, student's attention and retention can increase from 15 to 18%, it also cuts down on sickies, absenteeism and then there are benefits for teachers," David says.
Zumtobel Group is a European-based lighting technology group that has production plant and offices in Australia. HCL and TW is something the company has been focusing on.
A study commissioned by Zumtobel found that while 82% of respondents preferred a lighting solution combined with direct/indirect components, only 38% had HCL elements in their office space.
"We offer a combined solution between control, luminaires and LED chips selection which automatically change during the day to fit the biological clock but also lets people personalise it to how they want," Zumtobel Group marketing manager Alessandro Bessi explains.
In the study on the topic, Zumtobel Group found that colour temperature preferences in the office are distributed heterogeneously between 3,000K and 7,000K. However, the users' preference for the range between 4,000K and 5,000K is by far the most marked.
In terms of the electrician, David says that the best thing sparkies can do is learn: "Try to become familiar with the basics of warm white, understand how colours affect people and you'd be amazed at how many places you go where the wrong colour was chosen for the wrong application."
Home is where the light is
All the same benefits touted for commercial settings still exist after you've driven home. The circadian rhythm still applies when at home and as the sun goes down, it's important for lighting to continuously get warmer, simulating dusk.
Warm light of around 2,700K increases a sense of relaxation, similar to that of sunrise or sunset.
The International WELL Building Institute (IWBI) is a vehicle for buildings and organisations to deliver more thoughtful and intentional spaces to enhance human health. One of their ten WELL concepts is lighting.
"Exposure to bright light at night is associated with circadian phase disruption, which in turn can cause negative health effects, such as breast cancer and metabolic and sleep disorders," IWBI concept lead for light Gayathri Unnikrishnan says.
"The lighting requirements in the WELL Building Standard can be achieved by a basic lighting system with no colour tuning or dimming. This is to ensure the requirements are as accessible as possible, regardless of price point.
"However, the use of controls and high colour rendering, low flicker lighting is highly incentivised through additional points in the standard."
Signify head of Pacific operations Simon O'Donnelly, when speaking with our sister publication Connected in early 2020, said that while a lot of homes had access to controlled lights at home, there was a huge opportunity to use this power for wellness.
Simon said that Signify had created a large number of lighting recipes that can be pre-programmed. For example, there's a wake-up light which can simulate a sunrise or whenever the home owner sets it, regardless of the season.
He also said that it's ideal for seasons when the sun isn't as strong in the morning. It's great so you can still wake up naturally, with the 'sun' despite it coming up a few hours later.
Pierlite's David adds that the Internet of Things (IoT) has grown to a stage where we might not even have to set the lights on our control system or mobile device, some sensors can detect environmental conditions and act accordingly.
"It could trigger UVC, scrubbing for COVID-19 cleaning which can be inbuilt into luminaires. These applications seemed impossible just years ago."
Where does the electrician come in?
"I would say that there hasn't been a lot happening in the lighting industry for almost 100 years and in the past ten, we have seen a massive acceleration in technology through IoT and I believe that lighting as a language and an integral part of a connected building," Simon said.
It's an exciting time to be in the electrical industry and sparkies who can understand this technology, understand how it affects the health of its inhabitants and, more importantly, add a skill to your tool belt.
Gayathri adds that electrical professionals who are passionate and skilled in this area are always in high demand: "Definitely consider opening up this topic to project teams that you already work with or reach out to others in this space."
IWBI also offers the WELL AP credential which gives attendees a holistic view of healthy environments and can come in handy for WELL registered projects.
Building on one of the more important points from this piece, given how young this side of the lighting industry is, there is little to no industry standards, technical specifications or policy to guide or limit the installations – read into that how you will.