Socomec launches new power consumption monitor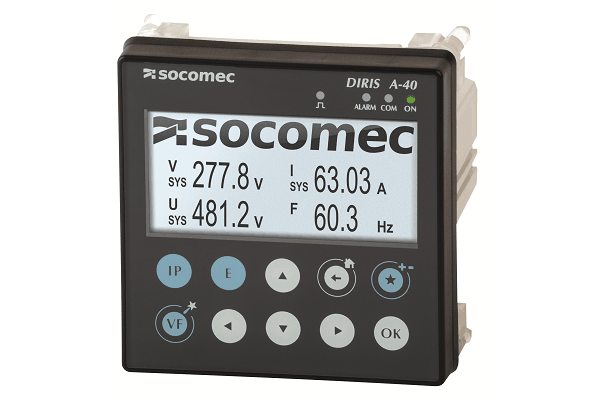 Socomec has launched its new monitoring device, the DIRIS A-40, which allows building managers and electrical contracts to monitor power consumption in new and existing buildings.
The panel-mounted device allows the analysis of both single and three phase loads, providing a versatile solution for small, as well as large applications using more than 100w distributed power. With three current sensor formats (solid-core TE, split-core TR and Rogowski coil TF), the DIRIS A-40 can be installed during a building's construction or retrofitted to an existing structure.
A selection of WEBVIEW software variants is included on a range of Socomec monitoring devices. Real-time monitoring of power consumption can be accessed by the WEBVIEW-S monitoring software, featuring a plug and play setupt that allows uyers to export data in CSV format.
WEBVIEW-M is embedded into DIRIS G and DIRIS Digiware D-70 monitoring units and allows the management of up to 32 measuring devices.
WEBCIEW-L allows the management and comparison of up to 200 connected measurement devices and integration with third party applications. WEBVIEW-L is included on DATALOG H80/H81 power monitoring units.
Other key features of the DIRIS A-40 include:
Plug and play set up with configuration wizard
Direct link to favourite screens on LCD panel
Compatible SmartSensors
In and out digital (3/2): state, pulse, alarm report
IEC 61557-12 compliant
Key features of the WEBVIEW software variants are as follows: