Knipex releases a universal dismantling tool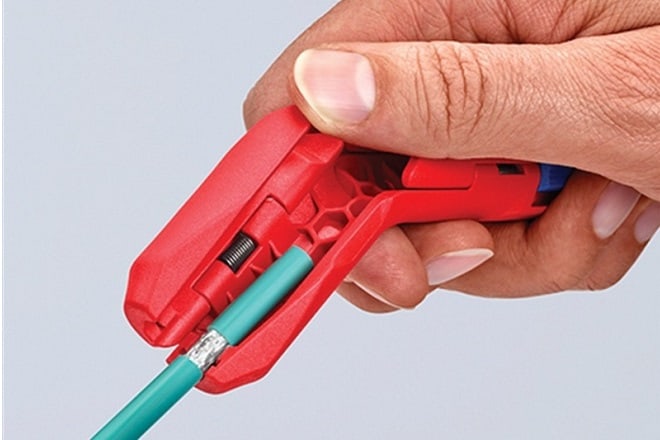 Knipex has released the ErgoStrip, a universal dismantling tool.
Designed to be a tool for all cables used in a modern house installation, the ErgoStrip is a real all rounder. In the past, electricians needed a number of tools to dismantle and strip different types of cables.
The innovative pistol grip design provides space for additional functions, making it possible to combine the stripping of all common NYM cable with the dismantling of data cable and the stripping and dismantling of coax cable – in a single tool. In addition there is no need to change grip when dismantling.
For electricians, plant manufacturers and fitters the tool enables dismantling in confined space and is ideally shaped for work on junction and distribution boxes.
Knipex has placed location ridges on the wire stripping holes so that the correct cable position for stripping can be found automatically, even in the dark
The insertion points for coax and data cable are angled. With gentle pressure, cables slide into the correct position almost by themselves.
The tool dismantles and strips data and coax cable to the same length using the scale. NYM cables can be cut lengthwise effortlessly and safely. This is ensured by the practical cable guide, where the cable is automatically pressed and fed against the guide hollows on the housing.
Knipex is distributed by Tridon Australia in Australia.