South Australian school student shows commitment to the electrotechnology industry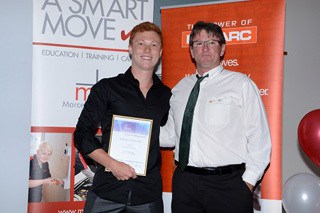 Reece Jongenelis is the 2015 winner of the NECA School Student Commitment to Industry award. Reece received his NECA award earlier this month from Electrical Trade Trainer David Hill, at the Marcellin Technical College in Adelaide.
"Reece is clearly a high-achiever," said judges Stuart Diepeveen (WA) and Tom Emeleus (NSW) – who each head up NECA Group Training Organisations.
"So we weren't surprised when we found out that Reece had also won several other awards this year. Reece is exactly the kind of student we welcome to our industry," they added.
Not only has Reece taken first prize in the NECA School Student Awards, but he has received five additional accolades:
–          Marist Scholarship 2015 Recipient
–          South Australian School-based Apprentice of the Year 2015
–          2015 SA Training Awards People's Choice Winner
–          Finalist 2015 Australian Training Awards
–          Marcellin Apprentice of the Year 2015
This year's runner up this year was Jodie Crayden – from Woodvale Secondary College, Western Australia whilst Christopher Cover – from Groves Christian College, Queensland came in third. Jodie will be presented with her certificate when she meets with Stuart and the WA team before Christmas. Christopher received his certificate from Mick Logan – NECA's Queensland Executive Director, at a school event earlier in the month.
The three "Innovation" winners will be announced at a forthcoming event in Victoria – and a media release will follow on these awards.
"We are proud to offer these awards," said the NECA President Dave McInnes, "It's great to see such ambitious and successful young people joining our industry."