NECA ACT Excellence and Apprentice Awards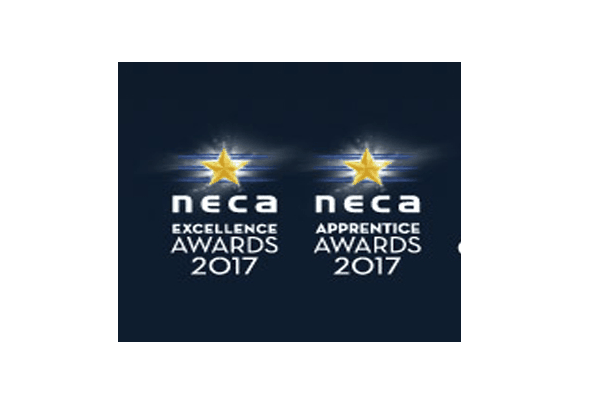 The annual National Electrical and Communications Association (NECA) Excellence and Apprentice Awards were held on Friday 18 August, recognising the best of the best Australian Capital Territory (ACT) electrical and communications contractors.
Held at the Hotel Realm in Canberra, the Excellence Awards recognise the successful projects of 2016/17 across the electrical industry in a broad range of categories. The finalists include contractors, suppliers, educators and government representatives.
"We saw some great entries this year. It was a particularly hard year for the judges and we would like to thank everyone who went to the trouble of submitting a project," says NECA ACT executive director Oliver Judd.
This year's Apprentice Awards celebrated five award recipients across three categories: Industrial, Commercial/Domestic and Communications.
"It was also a great year for our apprentices. The entries in the Commercial/Domestic category were so strong we ended up with a winner and two runners-up so congratulations to all five of our award winners this year," says NECA ACT president Barry Skinner.
Excellence Awards
Category
Company
Project
Domestic Residence
Kaz Electronics
Hall Residence
Energy Efficiency and Environment
SolarHub

 

Altilium

 

Lighting
Fredon ACT
Casino Canberra Redevelopment
Security
Secom Technical Services
Upgraded Security Access Control at The Treasury
WHS Management System – Company
Pathway Communications
WHS System
Industrial – Small Project
Stowe Australia
Mugga Quarry
Industrial – Medium Project
Shepherd Electrical
Captain Cook Memorial Jet Upgrade
Communications/Data – Small Project
Stowe Australia
The Canberra Hospital Emergency Department Expansion
Communications/Data – Medium Project
Intravision

Industry House Communications and AV Refurbishment
Commercial – Small Project
Stowe Australia
Primary Computer Room UPS Upgrade for the Department of Foreign Affairs and Trade
Commercial – Medium Project
Shepherd Electrical
The Canberra Hospital Emergency Department Expansion

Commercial – Large Project
Martin Donnelly
Canberra Data Centre Hume 3 Project

Commendation
Communications/Data – Small Project
Intravision
Canberra Airport International Terminal Communications Fitout
Apprentice Awards – Commercial/Domestic
Apprentice of the Year
Dylan Gallagher-Cichocki – NECA Electrical Apprenticeships
Runner Up
Shaun Grainger – NECA Electrical Apprenticeships
2nd Runner Up
Tiana Collins – Stowe Australia
Apprentice Awards – Industrial
Apprentice of the Year
Greg Hart – Control and Electric
Apprentice Awards – Communications
Apprentice of the Year
Keenan Hesketh – Canberra Connections