NETSCOUT upgrades OneTouch AT G2 Network Tester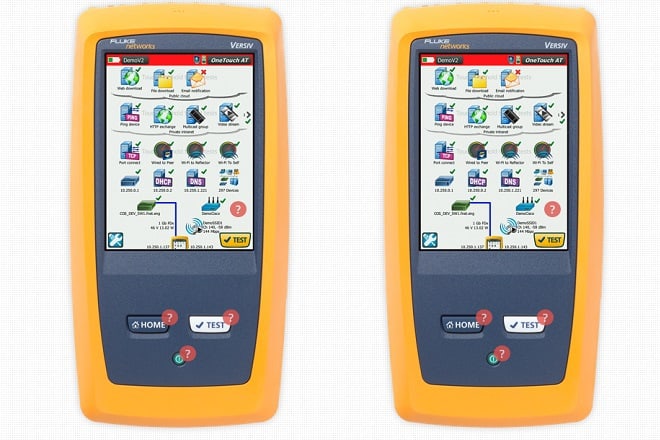 NETSCOUT SYSTEMS has announced it has enhanced its OneTouch AT G2 Network Tester with new WiFi features.
NETSCOUT'S v5 firmware release gives the OneTouch AT powerful new troubleshooting capabilities, letting technicians and network engineers quickly and easily validate performance of high capacity WiFi networks where numerous access points are required, such as at stadiums and theme parks. The new firmware also lets OneTouch AT users accurately pin-point the physical location of interfering sources.
"With the rapid pace of digital transformation taking place today, companies are spending to ensure their data centres are fail safe, but all too frequently the area that impacts every application in the enterprise the most, user access networks, is an afterthought," says NETSCOUT senior vice president Daryle DeBalski.
"The release of NETSCOUT'S v5 firmware for the OneTouch AT G2 Network Tester addresses both wireline and WiFi user access issues by providing faster, simpler and more accurate validation, isolation and troubleshooting of access network connectivity and performance."
Available through NETSCOUT's CONNECT360 global channel partner program, the OneTouch AT G2 Network Tester offers both wired and wireless troubleshooting. As more and more end devices, including Internet of Things (IoT) connected devices, rely on Ethernet or WiFi connectivity, the OneTouch AT's enhanced capability to test connections and support access network, helps identify and resolve issues faster and dramatically improve the user experience.
The OneTouch AT now has the ability to distinguish between 802.11 and non-802.11 signal sources in each channel.  Non-802.11 is a silent killer of bandwidth that causes serious, intermittent, slow WiFi performance.
The newly enhanced OneTouch AT can detect and classify the type of non-802.11 interferer, such as Bluetooth, microwave or other sources in the 2.4GHz & 5GHz bands, letting field technicians isolate the cause and work to mitigate the issue.
OneTouch AT comes with free access to the Link-Live Cloud Service, a centralised management, collaboration and archival workspace for network connectivity test results.  Link-Live provides an easy-to-use dashboard for better collaboration, reporting and results management.
"The enhancements to the OneTouch AT G2 Network Tester fill a gap that has been missing for front-line technicians and network engineers," says Daryle.
"Freeware apps and other purpose-built testers available today lack critical test and reporting capabilities. And without access to a results management repository, such as Link-Live, means it is difficult for them to facilitate collaborative testing. OneTouch AT is a dedicated, automated, handheld tool that makes wired and wireless troubleshooting simple, accurate and highly collaborative."